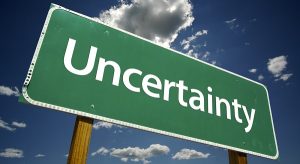 What a difference a week makes. Two weeks ago the odds were heavily against the Federal Reserve raising interest rates before September. Now it seems the market consensus believes the Fed will raise rates before the end of the summer, either at its June or July meeting (there is no meeting in August). I for one am still not convinced.
While I think the Fed certainly should raise rates at its next meeting – but then I thought they should have begun tightening monetary policy two years ago – I still don't think it has the cojones to do so, despite some recent comments to the contrary. I also think politics will play a bigger role in a rate decision than many market observers believe. Indeed, I haven't heard many of them bringing up that point. More on that in a minute.
What changed market opinion? Last week the Fed released the minutes of its April 26-27 monetary policy meeting, at which it once again failed to follow up on last December's first rate increase in 10 years but said it might be "appropriate" to do so in June.
"Most participants judged that if incoming data were consistent with economic growth picking up in the second quarter, labor market conditions continuing to strengthen and inflation making progress toward the committee's 2% objective, then it likely would be appropriate for the committee to increase the target range for the federal funds rate in June," the minutes said.
That's a lot of ifs. At least the Fed didn't hide behind "global economic developments" as it has in the past to keep itself from doing the right thing and raise rates, even when there's no valid reason not to do so. "Participants generally agreed that the risks to the economic outlook posed by global economic and financial developments had receded over the inter-meeting period," the minutes added.
Esther George, president of the Kansas City Fed, was the only Fed member voting for a 25 basis point increase. (At least there's someone on the Fed with some sense; must be something about that name).
Until those minutes were released, many investors and traders had largely discounted the idea of a June rate hike, owing to the weak first quarter data. Since that meeting, though, noises from other Fed officials have been pointing toward a June or July rate hike, which led bonds to sell off sharply last week.
The presidents of the San Francisco and Atlanta Feds said the June meeting is "live," increasing the odds of a rate increase next month. Following up on that, the president of the New York Fed said a rate increase in June or July was a "reasonable expectation" if his economic forecast stays "on track."
"If I am convinced that my own forecast is sort of on track, then I think a tightening in the summer, the June-July time frame is a reasonable expectation," William Dudley said.
Economic data following the miserable 0.5% first-quarter would tend to provide plenty of justification for a June rate increase, never mind July.
Leading indicators rebounded 0.6% last month after showing no gain in March, beating expectations.
Industrial production was also much better than expected, jumping 0.7% after falling 0.9% in March, the biggest increase since November 2014.
Retail sales jumped 1.3% last month, the biggest increase in over a year.
Existing-home sales rose 1.7% to an annual rate of 5.45 million, the second straight monthly increase.
Housing starts rose 6.6% to an annualized rate of 1.172 million while permits gained 3.3%.
The Chicago Fed's national activity index moved back into positive territory – not a lot, but better than where it has been the previous two months.
The ISM's non-manufacturing index, which tracks most of the economy, rose more than a full point in April to 55.7.
Those are just the April numbers. Economists keep telling us that Q1 was an aberration and that the economy will rebound as the weather gets warmer. And last month's data would seem to bear that out. But even if the momentum carries into May and June, will that be enough to get the Fed to move off its keister? If there's one thing we know about this Fed, conditions never seem to be right.
There's another variable that most market pundits have left out of their prognostication engines, and that is politics. Ask yourself: Is the Fed really going to raise interest rates in a presidential election year?
While it's true that there is no incumbent in the Oval Office to protect, Janet Yellen is nothing if not a loyal Democrat, the Fed's supposed "independence" notwithstanding. So it's hard for me to see her doing anything that might damage the prospects of her party's nominee, especially since Donald Trump has already called for her replacement. Do you really think Yellen would do anything that might potentially jeopardize Hillary's increasingly precarious election hopes?
The only way the Yellen-led Fed is going to raise rates this year is if economic growth is so incontrovertibly strong – like 3% or 4% – that tightening monetary policy will have absolutely no chance of hurting Democrat chances in November. But do you really see that happening in our economy when it's not been able to demonstrate it can grow that fast?
If the Fed does raise rates this summer, all well and good, it's way overdue. But I'm still not sold on it – there are just too many ifs.
Note: The author of this article is George Yacik.
Category: Breaking News