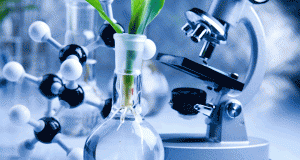 One, two, or three years out, investors will probably look back on the entry points in these five stocks and wonder why they did not allocate more funds to them. With growing earnings and revenues and M&A heating up, these five stocks are screaming buys right now.
I was out at the Money Show in Las Vegas last week doing a couple of investment presentations to try to help investors navigate this very challenging market. Judging from the overflowing room for the presentation I did on biotech, interest in this space has not waned a bit, and a lot of folks are slowly adding new money to the sector. It confirmed I am not alone in my belief that sentiment will eventually return to a positive stance even as the sector continues to be locked in its deepest and longest bear market since the end of the financial crisis. I remain convinced the current entry points will look quite stellar one or two years out.
So why do I continue to remain optimistic on the long-term value of the sector?
Growth:
This was the fourth quarter in a row that profits within the S&P 500 declined year-over-year, and it was the fifth quarter in a row that revenues dropped from the same period a year ago. Seven of the ten industry sectors within the S&P showed profit and sales declines this quarter as domestic GDP growth clocked in at .5% and global demand remains at depressed 2009 levels. In short, we are currently locked into a "profit recession" for the first time since the end of the financial crisis
In contrast, biotech companies within the S&P 500 reported a 12% rise in revenues in the first quarter with commensurate gains in earnings. Despite all the political posturing on drug price "gouging" and the debacle of Valeant Pharmaceuticals (NYSE: VRX), profit and sales growth remains strong within the sector. For all of 2015, spending on drugs domestically grew at a 12.2% clip to some $425 billion – an all-time record.
Valuation: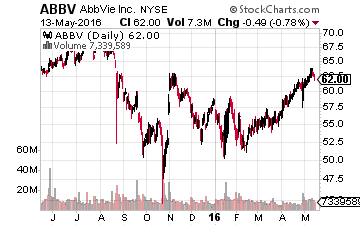 Despite being one of the few growth engines in the market, the collective valuation of the biotech companies within the S&P 500 is at its lowest level in some five years. Bargains abound among some of the large cap names in this sector. Take AbbVie (NYSE: ABBV), the drugmaker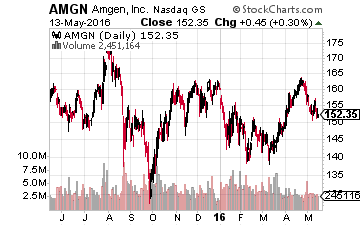 primarily known for its blockbuster biologic Humira. Earnings should increase 15% to 20% both in FY2016 and FY2017. The stock also pays a 3.6% dividend yield, twice that of a 10-year treasury right now. Despite this, the stock goes for 13 times this year's profits. Amgen (NASDAQ: AMGN) is another large biotech concern that offers similar attributes.
Innovation Continues:
The bearish sentiment on biotech is certainly not because innovation has dried up. New technologies that promise better and more effective treatments are increasingly coming to the forefront. Immunotherapy and Gene Editing are just two new focus areas that hold out great hope in discovering and developing treatments or cures to many debilitating diseases, even potentially Alzheimer's. Last year, the FDA approved 56 New Drug Applications (NDAs), the second most on record.
M&A Should Pick Up:
After a record year in 2014 and a very fast start through the first half of 2015, M&A activity within the biotech and pharma sectors have gone dormant as these areas slid into bear market territory. In addition, the Treasury Dept. recently killed the $150 billion proposed tie up between Pfizer (NYSE: PFE) and Allergan (NYSE: AGN).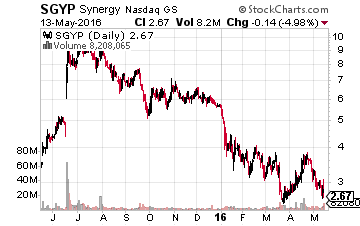 However, now those two giants have to go "shopping" to continue to replenish their pipelines. Allergan has already made a number of smaller moves and has said it is mainly focused on "bolt on" acquisitions. This means a couple of small caps could receive some buyout attention from this Irish based giant. If it continues to build out its gastrointestinal product portfolio, Synergy Pharmaceuticals (NASDAQ: SGYP)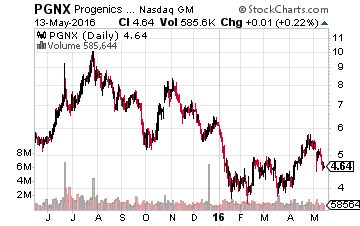 has been a rumored target of Allergan. I think Progenics Pharmaceuticals (NASDAQ: PGNX) makes an ideal but complicated target. The oral version of Relistor should be approved in July, which will exponentially boost sales of this franchise. Distribution rights are owned by Valeant, but that company needs to sell assets to pay down its $30 billion in debt; so a two-part deal could be done.
Pfizer, given its history, is probably going to go after bigger fish and has been linked to the erstwhile bidding war for Medivation (NASDAQ: MDVN). This is an oncology play that has doubled in the past month as it has already rejected a $9.3 billion offer from Sanofi (NYSE: SNY). The concern looks destined to be bought out by one of the giants for north of $10 billion when all is said and done.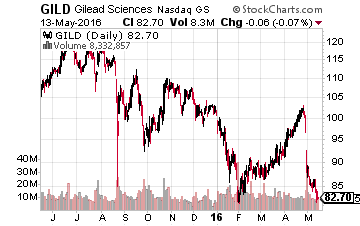 In addition, biotech juggernaut Gilead Sciences (NASDAQ: GILD) has a new leader who, based on comments, is more interested in pursuing M&A especially now that blockbuster sales of its hepatitis C franchise are starting to decline. With some $15 billion in free cash flow and over $20 billion in cash on the balance sheet, Gilead could certainly make some significant purchases, especially in focus areas of inflammatory diseases, oncology, and liver diseases. Look for a purchase related to NASH, where it has significant assets already. The company believes this could be the area that could provide its next blockbuster to go along with its market-leading HIV and HCV franchises, and that the NASH market could be a $35 billion a year market five to six years out.
Conclusion:
While the current sentiment on biotech is indeed bearish, from a longer-term perspective the bear market has created an oversold sector within an overbought market. One, two, or three years out, investors will probably look back on the entry points that are available now and wonder why they did not allocate more funds into the space.
Introducing My #1 Forever Stock for 2016
Quite frankly, this single buy could easily become your best-performing stock for the next decade. And, right now is one of those precious moments when an exceptional player in a lucrative industry can be had for a song.
This below-the-radar company is extremely healthy, and top-line sales and revenue are robust. The company is on pace to deliver more than $1 billion in profit this year.
Plus, their extremely generous dividend yield (currently 4%) provides a very large margin of safety for new investors.
Click here to read my newest report on my 'Top 3 Buy and Hold Forever Stocks' for 2016
Category: Biotech Stocks