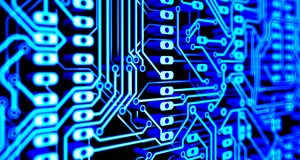 2012 is shaping up to be an exciting year for technology stocks.  We've already had some big moves and intriguing news from the sector.
Take for example this week's rumor – electronics giant Samsung is allegedly interested in purchasing Research In Motion (RIMM), maker of the Blackberry.
Supposedly, Samsung is trying to differentiate from the competition by adding RIMM's high end mobile operating system to their already robust handset business.  The hardware side of the business has become increasingly commoditized.  And Samsung has a lot to gain in a market dominated by relatively few competitors.
Not to mention, RIMM's meager $9 billion market cap implies the company would be affordable.  (Samsung's market cap is over $130 billion.)  The Blackberry maker had a rough 2011… and they're getting lapped by the competition.
Now, Samsung has already denied the rumor. (RIMM's supposedly pricing themselves at an unrealistically high level.  Seriously?  Has management looked at what their stock has done over the last year?) 
Here's the thing…
Samsung may or may not be seriously interested in RIMM… but that's not what's important.  I don't doubt there's at least some truth to this rumor.  And that means this potential deal represents something very significant…
A huge opportunity in tech stocks.
You see, tech companies are frantically looking for an edge.  Technology giants like Apple (AAPL) and Google (GOOG) are increasing their market share dominance.  And they've put the rest of the tech world on the defensive.
This is key…
We could be on the verge of significant consolidation in the tech sector.  At the very least, we're going to see a wave of intellectual property sales and licensing deals.
Cash rich companies (there are lots of these) will be looking to gobble up patents, acquire or license innovative technology, and expand into new areas.  Basically, they'll do whatever they can to keep up with the big boys.
Here's the best part…
This strategic shift in the tech sector will be a huge boon for tech penny stocks. 
The bigger tech players are on the hunt for small tech companies with innovative technology or impressive patent portfolios.  And that represents significant opportunity for penny stock investors.
Look for small, first class tech companies with promising technology.  Many of these will be acquisition targets in the near future, if they're not already.  And if you're a shareholder in one of these companies when they get acquired… well, let's just say it will be worth your while.
Yours in profit,
Gordon Lewis
Category: Investing in Penny Stocks, Technology Stocks