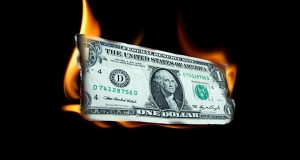 Welcome to today's Pump and Dump Alerts, where we will be exposing these two companies:  North Springs Resources (NSRS) and Evader (EVDR).
Here we identify a few of the "bogus" promotions going on in penny stocks today.
If you don't know how these scams work, be sure to check out this free report that exposes the whole thing.
Without further ado, here are today's "disasters waiting to happen":
North Springs Resources (NSRS) 
North Springs Resources is a gold exploration and mining company operating in Nevada and Arizona.  As of their latest financial report, the company had $599 in assets.  To finance their recent exploration project in Arizona, the company borrowed $1 million at an annual rate of 10%.
This stock continues to be pumped by paid promoters that specialize in marketing penny stocks.
NSRS is trading near $0.669.
Free Penny Alerts LLC, including all of their subsidiary promotional sites, were paid $600,000 by Nahulate S.A. to promote shares of NSRS.
Evader (EVDR)
Evader, through their subsidiary, ASCC manage large and complicated civil engineering projects in India.  Their emphasis is on roads, bridges, highways.  Their most recent financial report was published on April 14, 2011 for the 2010 fiscal year.  Since then, they've issued no financial reports.
Shares of this penny stock trade around $0.0004.
OTC Reporter was paid $205,000 to hype shares of EVDR.
A final word (and warning).
These are just a few of the current inglorious "pump and dumps".
Remember, there's a lot more of this going on than we can highlight here.
For more in-depth coverage of penny stock pump and dumps, be sure to sign up for our free newsletter, Penny Stock Research. 
As you know, penny stocks are a great place to invest your money.  You just have to do your due diligence to stay away from all the scams out there these days!
Until next time,
Brian Walker
Category: Pump & Dump Alerts, Pump & Dump Daily