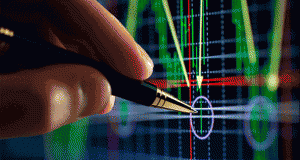 Let's face it.  There aren't many sure things in life.  And when it comes to investing in penny stocks, the list of sure things grows even shorter.
About all you know with 100% certainty is that you'll pay your broker commissions.
But risk can be reduced.  Start by avoiding the pump and dump penny stock scams.
You can find out about the best penny stocks scam right now.
I say "best" tongue in cheek.  The attitude of these so-called "Investor Relations" professionals is sick.   Sick and slick.  Nothing but take the money and run.
Look… when you get that fancy brochure in the mail that's hyping some stock, do me a favor.
Actually, do yourself a favor.
Don't buy the stock but save the impressive looking brochure.  Then pull it out six months down the road and take a look at what's happened to the stock.
The best penny stocks to invest in never show up hyped in these mailings.
The best penny stocks are quietly sitting there, going about their business, ready to take off.
Want to know a good way to find them?  Let me share something I think you'll find very helpful.  I call it "The Big Sleep".
A Great Way To Find The Best Penny Stocks
"The Big Sleep" is a trading tactic you can use to find a stock that's about to wake up from a long nap.
You use a chart, ideally a 5-year chart.  Find a stock that has fallen from a high, has been plodding along, and shows some signs of coming back to life… and waking up in a big way after a big sleep.
Want an example?
Take a look at this chart for Primo Water Corporation $PRMW.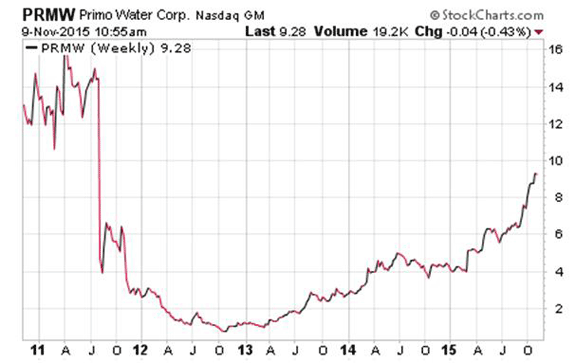 See what happened?
Primo took a huge hit and plunged from $14.55 to $4.84 in one day.
If this was one of the pump and dump penny stocks, chances are it would have sunk all the way to zero and flat lined.
But it didn't.  Look at what's been happening this year.
If you used my "Big Sleep" tactic, found Primo in 2013 while it was just starting to stir, just starting to come back up, and bought the stock, you would have made out fine.
In March of this year, you could have bought Primo for $3.99.  Today, it's at $9.32.
Why Does "The Big Sleep" Penny Stock Trading Tactic Work?
Well let me be straight.  It doesn't work all the time.  I'm not going to insult your intelligence.
There just aren't any secret formulas.
But "The Big Sleep" is a very helpful tool.  It's an excellent way to sift through all the garbage and find the best penny stocks, the ones that are in a good position to take off.
It's a tactic you can use to protect yourself from paying too much for penny stocks.
If you're looking to make an overnight killing, forget it.  But if you're happy to tuck a penny stock away for a year or two, "The Big Sleep" can help you pull in some very nice profits.
Try it out if you have a penny stocks watch list.  Chances are you'll find a lot of penny stocks that behave like this.
They take a hit, plunge quickly, plod along, and after awhile, start to pick up steam.
And by the way…
Primo Water Corporation is a fascinating company.  Its business model is based on what Gillette does with razors and what Epson does with printers.
Cheap razors and printers.  Expensive blades and ink.
Primo attracts with water containers it calls "stylish and innovative".
The company was launched 11 years ago by Billy Prim.  Years ago, Prim launched a well-known propane company, Blue Rhino, before he went into the purified water business.
Primo customers are both businesses and individuals.
During Q2 of 2015, sales grew 21% to $32.4 million.
It sold more water but more significantly, it sold more dispensers, which means it will sell even more water in the future.
This is a nice business model.  Some people call it "recurring revenue".
I'd call it smart.   The company delivers an 8% profit margin on the dispenser and a 33% margin on the water.
The margin it sacrifices up front, when a customer first signs up for service, it more than recovers over the lifetime of the deal.
Don't Let Sleeping Dogs Lie
Use my "Big Sleep" tactic to find the best penny stocks.  It's a great way to find undervalued companies, and to protect yourself from pump and dump scams.
What do think?
If you have a question about my "Big Sleep" tactic, shoot me an email or leave a comment on the website.
Good investing (And stay awake for more opportunities from us).
Brian Kent
Note:  If you're interested in learning more about Brian Kent's Penny Stock All-Stars premium service… and learning about the stocks we're trading for profit… you can get the inside scoop on penny stocks here.
Category: BEST Penny Stocks