Buying Penny Stocks During The Holiday Season, Part 2
We're over halfway through November already.  If you blink an eye, you may just miss this year's holiday season.  Ever year, it feels like the time between Halloween and New Year's goes by faster and faster.
Last week, we talked about buying retail penny stocks as part of a strategy to profit from the holiday shopping surge.
Basically, we're anticipating an increase in revenues across the retail sector.  Because penny stocks are not covered by analysts, they don't necessarily have revenue predictions to beat or meet.  Just increasing sales over the fourth quarter can be enough to give these small businesses a chance to shine.
Our focus was on pure retail companies last time out (such as a clothing company with brick and mortar stores).  Online retail companies work just as well.  Any business that sees a major uptick in business during the fourth quarter is fair game.
So what other industries should you be buying penny stocks in around the holidays?
As you may expect, retail shopping is powered by more than just retail companies.  In fact, in some cases the retail business is just the final point in the pipeline for a product that has been touched by multiple companies.  This is especially true for penny stock companies.
Here's an example: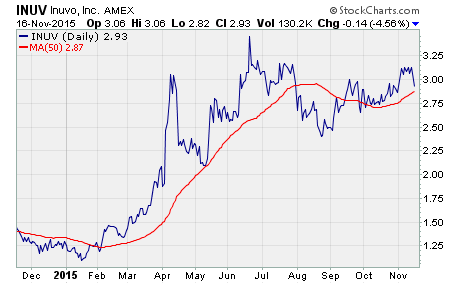 Inuvo $INUV is around $3 a share, but is only a $75 million market cap company.  That definitely qualifies as a microcap stock.  It's also had an excellent year, up 136% year to date.
$INUV is not a retail company, but a marketing services company.   More specifically, it's an Internet marketing and technology company.  Inuvo's main business is delivering advertisements through websites and applications on desktops and mobile devices.
In other words, it would be accurate to call INUV and Internet advertising company.
How is Internet advertising related to retail?
As you would expect, retail companies tend to ramp up advertising spending around the holiday season.  This is true for traditional and online advertising.  Many companies save the majority of their marketing budget just for the fourth quarter.
A company like INUV is likely to see substantially higher sales during the holiday season as more and more companies buy ads.  As such, buying INUV shares can work just as well as an investment in a retail company.
But that's not all…
Marketing isn't the only industry tied to retail during the holiday shopping season.
In fact, there are many moving parts to consider that all come together to make holiday shopping such a big deal.  We mentioned marketing, how about packaging?  That's obviously huge during this time a year.
And if you have packaging, you also have to consider shipping and trucking.  Those packages have to get to their destinations, right?
What's more, with smaller companies (and bigger ones too for that matter) you have to consider suppliers as part of the equation.  Even huge companies don't typically own their entire supply chain from start to finish.  Components that go into popular products may be sourced from specific companies.  Those companies also increase sales during the holidays.
As you can see, there are plenty of choices when considering penny stocks to buy during the holidays.  The key is look for a good value, but also a healthy company.  With penny stocks, there are typically plenty of candidates out there worth considering, as long as you do your research.
Good investing…
Brian Kent
Note:  If you're interested in learning more about Brian Kent's Penny Stock All-Stars premium service… and learning about the stocks we're trading for profit… you can get the inside scoop on penny stocks here.
Category: Penny Stock Tips