Should You Trade Penny Stocks?
Who should trade penny stocks?
Most penny stock gurus would say EVERYBODY!
But that's just Wrong, Wrong, Wrong.  Look, we're all adults here and penny stocks aren't for everyone.
There are people who should not trade penny stocks… ever!
Let me say that again, there are people who should not be trading penny stocks at all…
You've got to have the right mental attitude to trade penny stocks.
Risks are everywhere.
Penny stocks are volatile – that's what makes them exciting and profitable to trade.  But one bit of bad news, or a missed earnings report, or a flub by the CEO, and the penny stock you once loved could stab you in the back.
You can lose money trading penny stocks – you can lose LOTS of money.
Penny stocks are risky.  So you can't be trading with money you need for your mortgage or rent… or food… or for your kids' education.
Penny stocks require research… and that takes time.
If you're lazy and don't want to spend time reading and studying and researching penny stocks… then you probably shouldn't be trading them.
Penny stocks require your constant attention…  You don't need to look at them every hour of every day… but you can't ignore them for years and years.
Once again – if you don't like spending a little time every few days reviewing your investments… you might be better off in a lame mutual fund.
And that's why penny stocks aren't for everyone.
You've got to have the risk tolerance to trade these stocks…  Do a little self analysis and think about why you're trading penny stocks…
Why People Trade Penny Stocks
So, why do you trade penny stocks?
I'll tell you why I trade penny stocks – it's the huge gains you can make from them.
As a penny stock grows and grows and grows, the gains are compounded in a huge way.
Just look at this classic penny stock… Pier 1 Imports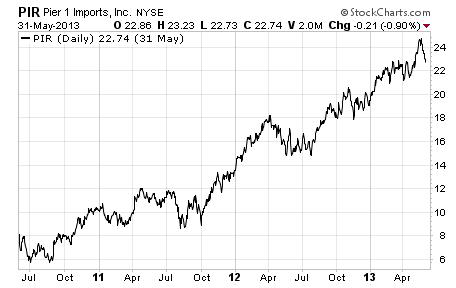 PIR – generated huge penny stock gains – 22,990% for shareholders over just a couple of years.
Here's how the numbers work out…
On March 13, 2009, PIR closed at $0.11 a share… that's right eleven cents.
A few years later, by May of 2013, you could sell those same shares for well over $24 a share.
The peak value was a whopping $25.29 on May 15, 2013. – That's a 22,990% gain!
A $1,000 investment would have got you 9,090 shares.  And in 2013, those shares could have been sold for $229,886.10…
Now nobody buys at the bottom and sells at the top… but really, would you have been upset with even half of those gains?
That's why traders LOVE penny stocks… that's why I love penny stocks.
Can Beginners Trade Penny Stocks?
Now I've told you who shouldn't trade penny stocks… and why you should love trading penny stocks… but I want you to notice something…
I didn't say anything about beginning traders.
If you've never traded stocks before, trading can be exciting and new… (especially penny stocks).
But you've got to learn the ins and outs of the business. That's how you'll become successful at trading.  And, sometimes trading can get confusing.
It's not hard… and with a bit of experience, it's actually easy.  So we'll do our best to help…
So you've decided you want to try your hand at trading and investing in penny stocks… start here and learn as much as you can.  Read the site, sign up for our free e-letter. And don't be afraid to shoot us questions.
Good trading…
Brian Kent
Penny Stock Research
Note:  Brian Kent has been trading the markets for more than two decades and now writes and edits for PennyStockResearch.com.  You can sign up for the penny stock research newsletter a trusted source for the truth about penny stocks! Sign up today and get a free research report – http://pennystockresearch.com/free-reports/
Category: Trading Penny Stocks