PAOC Pump & Dump In Action – Warning
Today we expose a potentially "Bogus" promotion going on in penny stocks.
Our patient today is a popular promotion this week on the email circuit… Pan Ocean Container Supplies Ltd. (PAOC).
If you're not sure how these scams work, check out our free report – exposing penny stock pump and dump scams.
So here's the story…
Pan Ocean Container Supplies Ltd. (PAOC) Pump & Dump
PAOC is being hyped this week by the scammers out there.
The most recent emails are hyping a 40% up move and a breakout… "Just like planned".
The scammer goes on to mention that PAOC had a big run already and was up for a second run right now…
So let's take a look at that first run…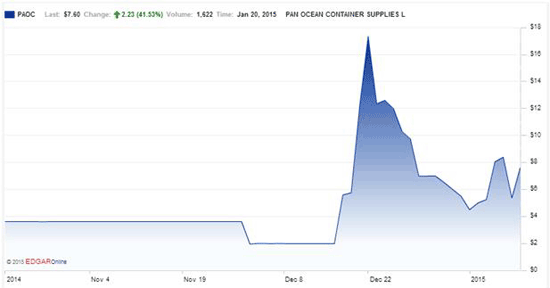 As you can see, this tiny stock had quite the run last a few weeks back jumping from around $2 to over $18.
Unfortunately, like most pump and dump stories, the stock didn't stay up… it promptly crashed back to earth.  This crash cost penny stock traders big bucks…
And now the scammers are trying to take a second bite at the apple…  They're trying to pump up the stock again!
DON'T get caught by this scam.
Why do I think it's a scam?
PAOC Pump & Dump Warning Signs…
There are warning signs all over this company.
First is the email…
The promoter does his duty and discloses his relationship to PAOC… In their disclaimer, they note they were paid $5,840.00 for "advertising paoc" and to "disseminate information about paoc".
That's the first RED FLAG.
Now let's ask a question … Who paid them?
Well, it wasn't the company.  I took a look at the company financials and they have a whopping, $4,051 in the bank as of their last filing.
If that's not another Big RED FLAG, I don't know what is…
But it doesn't end there.
I kept reading the filings…
And I came across this statement.
"These funds are in his safe custody pending the opening of a Company bank account."
So, I guess the company doesn't have a bank account?!?
What the….
But wait, it gets better (or worse I guess).
More from their filings…
"We have not generated any revenues for the six months ended October 31, 2014."
And
"Management does not expect that the current level of cash on hand will be sufficient to fund our operation for the next twelve-month period." 
You can read all these warning signs too… just visit the sec.gov website and search for the company filings!
REALLY, do some homework and you'll find warning after warning…
RED FLAG, after red flag, after red flag…
No cash, no bank account, and not enough money to survive the next 12 months.
So why would you buy this penny stock?
You wouldn't! And you shouldn't!
Stay as far away from PAOC as you can… it's clearly a pump & dump and you don't want to be left holding the bag.
Good trading…
Brian Kent
Penny Stock Research
Note:  Brian Kent has been trading the markets for more than two decades and now writes and edits for PennyStockResearch.com.  You can sign up for the penny stock research newsletter a trusted source for the truth about penny stocks! Sign up today and get a free research report – http://pennystockresearch.com/free-reports/.
Category: Pump & Dump Alerts