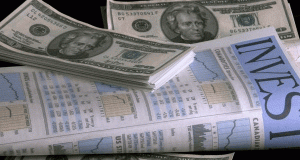 My colleague Gordon Lewis hit the nail on the head yesterday.  He pointed out there are a few industries underperforming right now which appear to be excellent buys, and I couldn't agree more.
Fund managers and investors alike could be cashing in some of their recent gains to position their portfolios in these industries.  And as Gordon pointed out, industries such as coal, gold mining, industrial metals, and steel all are trading at a loss for the year. 
If you're looking to invest in these industries, you're faced with a number of different methods for putting your money to work. 
So which way are you investing?
I'd like to take a look at one industry and show you a couple of different paths you can take.  To make it easy, let's pick one of the worst performing industries this year… steel.
Normally we discuss only penny stocks here at Penny Stock Research.  But to be fair, there are plenty of ways to invest in the market… penny stocks just happen to be our favorite.
But what if you're not comfortable picking individual stocks and still want to capitalize on the recent drop in steel companies?
That brings me right to our first option, investing in an ETF.   And when it comes to the steel industry, one ETF is a perfect match… the Market Vectors Steel ETF (SLX).
The benefit of buying this ETF is you'll get exposure to a number of steel stocks with just one purchase.  Companies such as Rio Tinto (RIO.AX), Vale (VALE.SA), US Steel (X), and Nucor (NUE) are all in this ETF.
And at the moment, there's plenty of upside to be had in SLX.  Take a look at the chart below…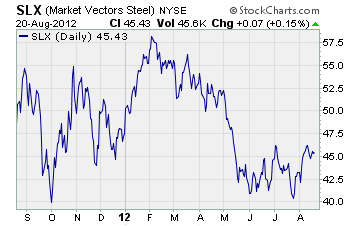 As you can see, this ETF has declined for most of the year.
Now, if steel stocks recover most of their losses since February's high, we could see SLX trading back near $55.00.   That would be a 20% move higher, which is a pretty impressive short-term gain for an ETF.
In addition, SLX appears to have retested a bottom over the past 10 weeks providing a clear support level.  No doubt, this is a great option for many investors.
But what if you're after an even larger return, and are willing to take on a bit more risk to get it?
That brings us to option two… buy a steel penny stock.
Now, there are plenty of steel penny stocks out there you can invest in.  All you need to do is a little homework to find the one you like best.
To illustrate my point, I'm going to use one of the better known companies, AK Steel Holdings (AKS).    Let's take a look at their chart to see where the stock's at…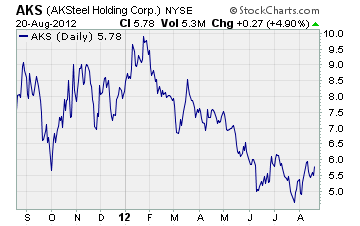 Obviously, this chart looks pretty similar to what's happened with SLX.  So why not just buy the ETF you ask?
That's a great question, and I have an even better answer… AKS offers a fatter potential return. 
As in our first example, if AKS recovers to trade where it was just six short months ago, we'd see the stock near $10 a share… giving investors a roughly 70% return!
Now, as I pointed out before, there is more downside risk.  Something can go wrong and AKS could have a horrific run of it.  But if you're willing to take on the risk and make the investment, the returns can be huge.
The bottom line…
How you invest is up to you, and your risk tolerance has a lot to do with your choices.  Both SLX and AKS are simply two options in the vast sea of investment opportunities out there for you to choose from.
As always, do your homework to make sure you know what you're putting your money into.  That way, you're making the best informed decision for your portfolio.
***Editor's Note***  If you're not sure how to pick penny stocks, our in-house guru Gordon Lewis has created a "must read" guide for anyone looking to profit in micro-cap stocks.  Click here to check it out.
Until next time,
Brian Walker
Category: Investing in Penny Stocks