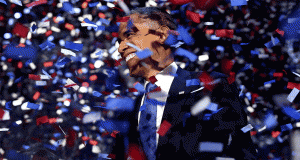 Well, we've certainly had plenty of big news events to talk about recently.  Last week it was Hurricane Sandy.  And of course, this week it's all about President Obama's election to a second term.
The media really wanted to make this out to be a historically close race.  Keep in mind, it's the media's job to keep people interested in their content… and advertising that goes with it.
However, if you took the time to look at the state polls over the last couple weeks, it should've been very obvious that Obama had a strong chance to win.  He led in the aggregated state polls of virtually all battleground states heading into the election.
I believe the markets were paying close attention to the state polls.  That's why we didn't have the 20% correction some analysts were calling for prior to the election.
You see, despite Wall Street's strong support for Romney, investors are generally happy with the status quo.  The market is up over the past few years.
And more importantly, Obama favors Bernanke.
This is a key point.  Keep in mind, Romney had said he would fire the Fed chief.  But, it's Bernanke who is the single most important driver of the Fed's stimulus programs.  And the stock market loves stimulus (and hates uncertainty).
So now you're probably asking, why did the market sell off sharply after the election if investors are so happy with Obama?
Here's the thing…
If you look at what the analysts were saying yesterday, the concerns are over the looming fiscal cliff and comments by ECB president Mario Draghi.  (Also, stock index futures were flat the morning after the election.)  In other words, certain issues that were put on hold due to the election are back in the spotlight now that the election is over.
Europe's weakness is still a major concern to investors, as was highlighted this week by Draghi.  And, the fiscal cliff was going to be a primary issue for either candidate who became president.
Here's what I think…
The market will continue to rise and fall weekly (or daily) based on news out of Europe.  That isn't going away anytime soon.
On the other hand, I feel strongly that the fiscal cliff will be resolved before it becomes a major threat.  Neither party wants a $600 billion budget hit to go into effect.  Some compromise will be reached.
Even better, the holiday season is just about here – meaning a big boost in retail spending is on the way.
So how does all of this impact penny stocks?
Between holiday spending, Fed stimulus not going anywhere, and a probable fiscal cliff resolution, I think we're going to see a nice rally in stocks by the end of the year.  And don't forget, small caps and penny stocks tend to lead rallies.  As such, there should be good opportunity for profits for us in the weeks ahead.
Yours in profit,
Gordon Lewis
Category: Investing in Penny Stocks