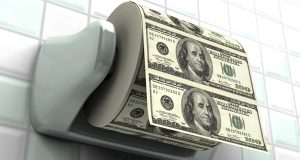 This week we're exposing this pair of popular Pump & Dumps:  Medical Marijuana (MJNA) and Goliath Film & Media (GFMH).
That said, welcome to Pump and Dump Friday, where every week we identify a few of the potentially "bogus" promotions going on in penny stocks today.
If you don't know how these schemes work, be sure to check out this free report that exposes the whole thing.
Without further ado, here are today's "disasters waiting to happen":
Medical Marijuana (MJNA)
It didn't take long for the pumpers to fire up Medical Marijuana.
No, no… I'm not saying the pumpers are using the medical marijuana- I'm saying they're already pumping the company Medical Marijuana (MJNA).
Well, actually… given the tactics they're using, they could be smokin' the reefer!
Ok, seriously now.  I'll get back to the pumping in a second, but first you probably know by now both Colorado and Washington voters passed referendums legalizing marijuana for recreational use.
Three cheers… reefer for everyone!  Well, not so fast…
You can bet a legal battle with the Feds may just prevent these state referendums from becoming useful.  There's a lot to be figured out here.  But it certainly hasn't stopped the hype machine from making it sound like it's a lock.
PenniesPicks, which is owned by Micro-Cap Consultants, LLC and the pumper StockMister, had this to say on Wednesday:
"So basically this company provides Medical Marijuana to the masses and is ready to take advantage of a new bill authorizing ANY adult over the age of 21 to carry and consume Marijuana in the states of Colorado and Washington!"
Really now, I certainly have my doubts about the trustworthiness of anything this pumper says.
Let me expand a bit…
If you've been following our Friday Pump and Dump Alert for some time, you'd recognize the name Micro-Cap consultants, LLC.  Most recently, they were the company paying for pumping on Yellow 7 (YLLC).  Major Penny Stocks was paid $4,000 by them to hype YLLC shares.
They also paid for pumping on Green Endeavors (GRNE) – which we highlighted back on August 17th.  They paid Penny Stock Explosion $2,500 for a two-day pump on that crappy penny stock.
I guess they figured it would be cheaper to run their own pumping service – and voila… emails from PenniesPicks started showing up in my inbox.
One of the problems I see with this pumper is their disclosure statements…
First off, they don't declare in their emails how much they were paid… or are paying for pumping of specific stocks.  Shame on you guys… that's an SEC violation!
It seems like a few of the pumpers out there are starting this trend… no stock specific compensation disclosure.  They just post a link to a disclaimer page on their website.
But when you go there, the disclaimer on their website shows no mention of specific compensation for ANY stock.  That's a double no-no.  So unless they're simply not being paid to tout stocks, they may just end up getting a call from a regulatory body.
Now, getting back to the stock here- there's lots to be concerned with…
For starters, MJNA is traded on OTC Pink Limited Information- meaning no firm is making a market in this stock.   I don't see how we can trust any quote if that's the case!
In addition, MJNA does not file their financial documents with the SEC… removing yet another level of protection for investors.
Even though MJNA makes money via a variety of subsidiaries, I'd stay as far away from this stock as possible.  There's just a bad sense of karma around it with the pumpers involved, and you can certainly find better investment opportunities offering you much better visibility and upside.
I'd hate to see your hard earned cash go "up in smoke"!
Goliath Film & Media (GFMH)
Beware to the little guy… Goliath is out for blood!
Well, actually that's not true.  The pumpers of GFMH stock are out for your hard earned cash… even worse!
Seriously, I'll give a pint of blood to anyone, but you're not going to convince me to buy shares of GFMH no matter what you say Mr. David Cohen – you bad man.
Oh yes, Research Driven Investors (aka David Cohen) was paid $35,000 for the most recent stock-touting effort on Goliath Film.  Even worse, they've been paid a cumulative total of $75,000 by ACN, LLC.
It's just sickening really.
And sadly, the pumpers are firing off the same crap as always-
"Could GFMH hit .15 cents?"

"Could GFMH hit .25 cents?"

"Could GFMH hit .50 cents?"
Really guys, is that the best you've got here?  You're reduced to random guesses at a stock price… that's real in-depth analysis!
As usual, they're leaving you in the dark about the financial condition of Goliath Films.  And let me just say, that's where things really get ugly…
For starters, GFHM has all of $1,082 in cash.  That should be enough to cover rent for a month – maybe.  But after that, they're pretty much screwed.  You see, they have no money coming in – $0 revenue as of July 31st! 
And…
They've lost $27,615 in their most recent quarter. 
Regardless of the business plan here, I'd say we have enough fundamental reasons to avoid buying shares of GFMH – never mind the paid pumping going on!
Other Penny Stocks Being Pumped This Week
PSID – The Hot Penny Stock was paid $25,000 by Hanover Financial Services.
NYXO – My Best Stock Alert was paid $2,000
SANP – Penny Stock Wizard, owned by Stock Digest, LLC- was paid $3.8 million
A final word (and warning).
These are just a few of the potential "pump and dumps" we've seen lately.
Remember, there's a lot more of this going on than we can highlight here.
As you know, penny stocks are a great place to invest your money.  You just have to do your due diligence to stay away from all the schemes and scams out there these days!
Until next time,
Brian Walker
Category: Pump & Dump Alerts