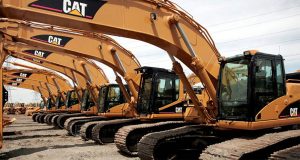 The news this morning from Caterpillar (CAT) was nothing short of amazing.  In case you didn't see the news, CAT's revenue jumped 41% to $15.7 billion.  What's more, profits surged 44% to $1.14 billion.
The stock is surging, now up almost 5% this morning!
But that isn't the exciting news…
Believe it or not, management's comments on the future of the business really have investors frothing at the mouth.  They said revenue for 2011 would be above previous forecasts.  Better yet, 2012 will look even better.
They put 2012 revenue growth somewhere between 10% and 20%.  That's amazing growth for such a large company!
Now I know what you're thinking… why should you care about an industry giant like CAT?
If you focus on investing in penny stocks, CAT's announcement is even more exciting for you.  Let me tell you why.
CAT's a bellwether for a handful of key industries.  Their equipment is used throughout the world, primarily in the mining and construction industries.  If you're planning on a new construction project or opening a new mine, you can't just run down to Home Depot and rent this equipment.
A lot of the equipment CAT provides needs to be ordered weeks and months in advance.
And when CAT sees a surge in orders, it indicates many of the big mining and construction companies see increasing demand a few quarters out.
Think about it…
If mining and construction companies see increasing demand for their products… products that are the basic building blocks of our economy… what's it mean overall?
It tells me corporations are starting to ramp up spending…
It means economic activity overall is picking up…
It tells me confidence in the economy is returning…
All together it means we'll see better economic growth and even bigger corporate revenue!  And it will eventually lead to more capital spending and even more jobs.
Remember, news like this can propel the market higher… and nobody profits more from a rising stock market than penny stocks.  They're able to ramp up and respond to rising demand quicker.
Penny stock companies will see greater growth, larger profits, and better returns for investors.
It's no secret in a surging market, the smaller stocks tend to outperform market averages… and that's fantastic news for penny stock investors any way you slice it.
Until next time,
Brian Walker
Category: Investing in Penny Stocks, Penny Stock Alerts