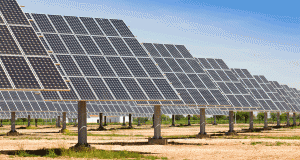 In 2012, China continues making major alternative energy investments.  Keeping an eye to the future, Chinese leaders understand that fossil fuel supplies will become constrained.  So an alternative energy investment now is a smart play on their part.
To meet their goals, China is laying their bet on the solar industry…
Chinese government officials have committed to reach 10 gigawatts of installed solar capacity by 2015.  That number jumps to 50 gigawatts by 2020.  Just so you know, China installed more than 2.5 gigawatts in 2011 alone.
This level of investment accomplishes two things…
First, China will help fuel their country's massive expansion and energy consumption for years to come with a cheaper and more sustainable energy source.  While that's great for the environment, the business and financial impacts of their investments will also fuel their domestic economy.
Before I get into that, let's take a step back…
You see, China has far too many solar panel manufacturing companies right now.  The market's so competitive, it's at the point where some companies are undercutting each other and taking huge losses… all in an attempt to gain market share or just plain stay alive.
Much to their dismay, these manufacturers have caused too many fingers to be pointed back at China.   The sale of PV panels "below production cost" in the US has become a serious issue.  It's enough of one that the US Energy Department has slapped individual "penalty" tariffs on foreign made PV panel manufacturers- up to 36% in some cases!
Intentional or not, the Chinese government's latest move has the potential to "kill two birds with one stone" so to speak….
You see, China is now subsidizing specific solar companies.   Case in point, JinkoSolar (JKS) has just won as much as $1 billion in financing from China Development Bank Corp.   As you'd expect, this penny stock rallied on the announcement- jumping over 13% on Friday and 9.4% yesterday.  Take a look at the chart below…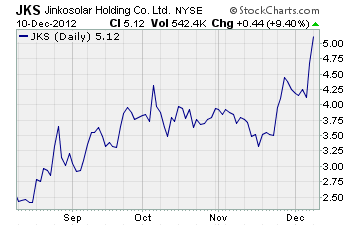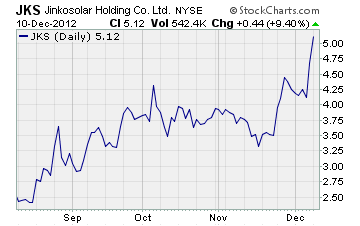 Not a bad chart if you've been holding JKS…
In the bigger picture, the latest move by China ensures there will be at least one major domestic solar panel manufacturer around to help them achieve their solar energy production goals.
And the fact that JinkoSolar was the one chosen comes as no great surprise.  If you didn't already know, JKS was previously tapped by Beijing as the contractor of choice for a number of major solar projects earlier in the year.
By giving JKS $1 billion in loans, the Chinese government is essentially picking JinkoSolar as one of the winners in the solar industry.   Consolidation in the industry has been coming, but the latest announcement may just quicken the process.
Think about it… without similar financing, many of Jinko's nearest competitors simply won't be able to stay in business.  They can't keep selling their product at a loss for years on end.
In the big picture, China's latest decision is great news for the solar industry. 
The latest round of loans and guaranteed business will ensure JKS is around once the glut of PV panels passes.  And when that does, you can bet we're going to see the price of this technology on the rise once again.
I'd say, now's a great time to buy shares of JKS.  Seriously… are you willing to go against China's $1 billion bet?
Until next time,
Brian Walker
Category: Chinese Penny Stocks, Solar Stocks