Pump & Dump Penny Stocks Right Now
Here we are… at it again.  Another scammer is starting to pump and dump penny stocks as we speak.
I got the email this morning…
The scammer claims, "We see a lot of potential for massive upside right now!"
They call it a "Ground Floor Opportunity".
And tell everyone, "…so hurry and start your own research."
What have I said time and time again about scam artists and their desire to get the suckers to act fast?
Just review my article about Penny Stock Scams…
Despite my constant warning, they keep happening and today's scam is no less threatening to your health and well being… as a matter of fact… any time you see a pump and dump with penny stocks, it's a potential trap.
Today's Penny Stock Pump & Dump
Let's take a look at today's scam.
Emails I received talked about how the stock was ready for a monster move…
The company:  Definitive Rest Mattress (DRMC).
So, my first stop is Yahoo Finance… I just want to get a quick look at the numbers.
What we have is a penny stock trading at 1 and a fraction of a cent… with 6 million shares trading.
Wow… that's a lot of action… or is it?
Well, 6 million shares at a penny a share is only $60,000 worth of trading volume… not exactly a liquid market.
Here's the chart…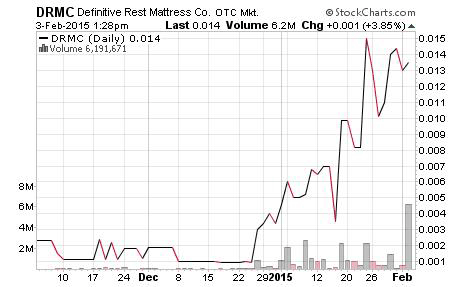 Notice how the volume is tiny for months on end… then all of the sudden starts to get crazy?  And the stock price jumps.
So must be some great news about our bedding and mattress manufacturer… right?
Well, the news is…
The company's going to now make "Machine Tools and Metals for the Aerospace and Industrial manufacturing sectors"!
Sure, that makes sense – a lot of intellectual knowledge between mattress manufacturing and machine tools for aerospace…  Reminds me of an old pump and dump where a car wash was going to become an internet technology company!  HA!
Well… a few days ago they acquired a company called NU Metals…
Maybe they can make it work… let's dig into the details… what did they pay… what's the capital structure look like… how profitable is NU Metals?
My Next Stop… SEC.gov.
Since the website was thin on information about the acquisition, I figured I'd go over to the SEC.gov and read their filings and merger documents…
After all, that's where real companies file their legal documents.
That's when I uncovered another warning sign… nothing is listed in the EDGAR system.  How can you research a penny stock, like this promoter wants, if you can't find any information.
How can you study an acquisition – if the merger documents aren't available?
OK… one more chance at redemption…
Let's swing by… otcmarkets.com.
At least they have some info here… but it's old.  The most recent filings are from November 2014.  Nothing on the new acquisition, the merger… or the new direction the company is taking.
What I did find was interesting…
The Numbers On A Pump & Dump Penny Stock
I did find some numbers…
The September 2014 financials showed Revenue falling from just over $800,000 in 2013 to just under $200,000 in 2014.  That means business dropped off by more than 75%.
And they went from making money to losing money.
It's probably why they have a going concern statement in their information.
The officers are Juan Murga and Claudia Lima… and between them they own 78% of the stock outstanding.
Look, I don't know what their plans are… but this deal sounds fishy.
The company might be changing direction… their acquisition might be decent… but you have no way to know because there's no information available… and no filings were made with the SEC.
To top it off, someone… someone paid the promoter $25,000 to promote the stock for one day.  That's right $25 grand for one day of promotions.
And if you need one more reason to stay away…
Look at the same stock chart but back in 2014.
It's like Groundhog Day all over again!
As you can see, the company showed another pump and dump classic chart pattern.
Like I said, this just smells fishy to me…
You can learn more about exposing pump and dump penny stocks scams here!
Good trading…
Brian Kent
Penny Stock Research
Note:  Brian Kent has been trading the markets for more than two decades and now writes and edits for PennyStockResearch.com.  You can sign up for the penny stock research newsletter a trusted source for the truth about penny stocks! Sign up today and get a free research report – http://pennystockresearch.com/free-reports/.
Link the last phrase to:
Category: Pump & Dump Alerts