Penny Stock Day Traders – 4 Tips For Success
Last year was a great one for day traders… especially those focused on penny stocks!
One small stock skyrocketed 33,000% higher!
The problem is… it quickly crashed back to earth… just look at the chart: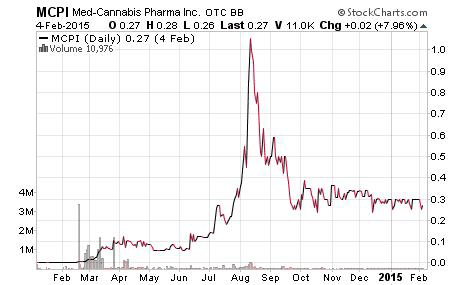 This company got caught up in the hype surrounding the legalization of Cannabis in several states.  Pot Stocks… you've got to love 'em!
It goes to show you, day traders can make money in penny stocks if they play their cards right.  If you would have caught just part of this huge move, you could have made millions!
But…
Day Traders Work Hard
Day trading penny stocks isn't easy… you've got to work at it.
The stress of constantly tracking and monitoring fast moving penny stocks can fray one's nerves.
If you like the action in penny stocks, let me give you a few bits of advice…
Prosperous penny stock traders will tell you this style of investing requires some specific skills.  A quick look at the traders' success stories will show you some of the critical characteristics you need.
Four Tips For Day Traders
Patience. 
Ask any penny stock trader what the key to success is, and the word patience will be used at some point in the response. To experience prolonged success, you must be able to research stocks, test strategies, absorb losses, and move on. Those who lack patience are usually the least successful.
Realistic expectations. 
While there are stories of traders bringing in millions of dollars a week, it's not the norm. Successful traders are able to set realistic goals and don't become greedy and dissatisfied with steady gains.
Risk tolerance. 
If you don't like risk, penny stocks aren't for you. Penny stocks are the most unknown stocks on the market… as a result, they carry as much potential risk as they do potential reward. While patience and research will allow you to be successful in the long run, you must be willing to tolerate risk in the meantime.
Quick learner. 
Whether it's a missed opportunity or a rookie mistake, successful stock traders learn from their past and adapt accordingly. It's this trait that separates average traders from successful investors.
There you have it…
Four tips to make you a better penny stock day trader.  Will you be rich instantly?  Of course not… but developing some of these skills will make you a better trader… and give you a better chance of scoring a big win!
Good trading…
Brian Kent
Note:  Brian Kent has been trading the markets for more than two decades and now writes and edits for PennyStockResearch.com.  You can sign up for the penny stock research newsletter a trusted source for the truth about penny stocks! Sign up today and get a free research report – http://pennystockresearch.com/free-reports/.
Link the last phrase to:
Category: Trading Penny Stocks