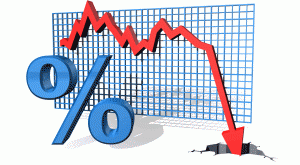 There's no better way to describe it… penny stocks are en fuego! 
Check this out. 
Our proxy for the penny stock market, the Russell 2000, is up more than 24% for the year.  And at last count, nearly 100 penny stocks in my coverage universe are sitting on triple-digit gains in 2013.
It's a mind-blowing rally to be sure.
But just because scores of penny stocks are soaring, it doesn't mean that every penny stock is a good investment.  There are many penny stocks missing out entirely on the glorious bull market of 2013. 
And a good number of them aren't worth risking your hard earned dollars on.
In fact, I've found two such penny stocks that you should sell right away if you have the misfortune of holding them in your portfolio. 
Let's take a look at them now…
Desarrolladora Homex, SAB de CV (NYSE: HXM)
Desarrolladora Homex is a residential construction company based in Culiacan, Mexico.  It builds affordable entry-level, middle-income, and tourism housing in Mexico as well as affordable entry-level housing in Brazil.
While the stock climbed rapidly in the years prior to the financial crisis of 2008, it has since lost 98% of its value.  In fact, the stock has plunged from a peak price of over $70 in 2008 to just $1.64 per share today.
And the crippling downward trend has continued in 2013. 
Year-to-date, HXM is down a whopping 87%.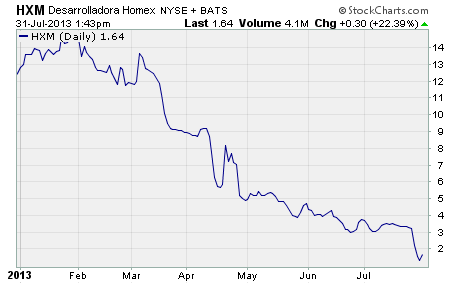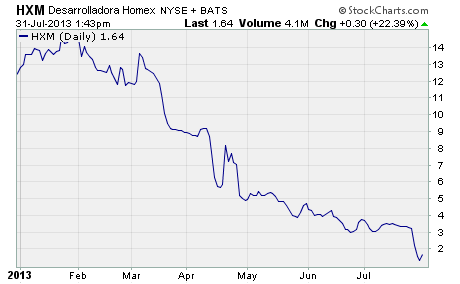 This most recent plunge has occurred simultaneously with three consecutive quarterly earnings misses.  For the quarters ending in September 2012, December 2012, and March 2013, the company has missed analysts' estimates by 27%, 69%, and 73% respectively.
And earlier this week, Credit Suisse may have hammered the final nail into the company's coffin. 
Two of the firm's analysts wrote in a research report that they believe "the company can no longer finance its business".  They went on to say the company "is unviable until a financial restructuring is completed and a new business plan reestablishes its assets and liabilities."
If you own shares of HMX, you should sell them now and preserve what capital you have left.  There are many other penny stocks offering better profit potential than HMX.
Furniture Brands International (NYSE: FBN)
FBN has plunged 67% so far this year.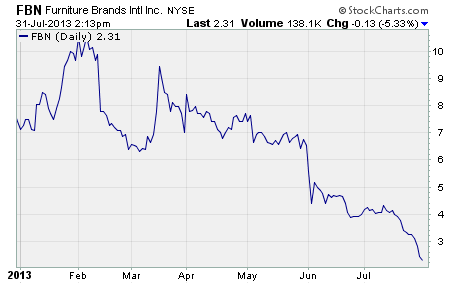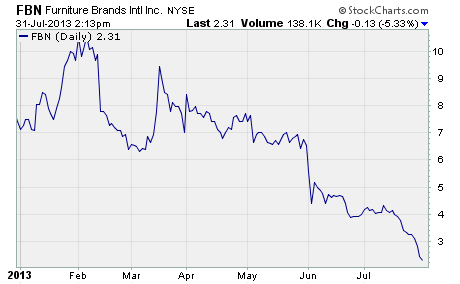 Furniture Brands was founded in 1921 and is headquartered in St. Louis, Missouri.  The company manufactures and sells retail home furnishings in the US and internationally.
While the company has a long history of operation, it was hit hard by the financial crisis of 2008.  From 2008 through 2012, Furniture Brands has racked up annual losses (before non-recurring items) of $17.21, $15.75, $5.32, $4.83, and $3.71 per share.
And this year, the company is projected to take a major step backward.
According to Zacks, Furniture Brands is expected to post a loss of $6.26 per share on 3% drop in revenue for all of 2013.  And to add insult to injury, the NYSE just notified the company it's in danger of having its shares delisted from the exchange.
No question about it, there are lots of penny stocks out there with much better upside potential than Furniture Brands.  Do yourself a favor and cut your losses in this stock while you still can. 
 Profitably Yours,
Robert Morris 
Category: Penny Stock Alerts