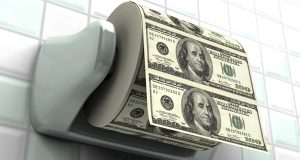 Welcome to Pump and Dump Friday, our weekly feature where we identify potentially "bogus" promotions going on in penny stocks.
Today we're exposing one of the most extensive penny stock pump and dump campaigns of the week:  Globaltech Holdings (OTCPINK: GLBH).
If you don't know how these schemes work, be sure to check out our free report that exposes the whole thing.
Without further ado, here is today's disaster waiting to happen:
Globaltech Holdings (OTCPINK: GLBH)
GLBH is one of the most heavily hyped penny stocks of the past week.  According to our sources, a couple of promoters have been paid $35,000 to pump GLBH.
Clearly, someone is trying to turn this stock around.
Take a look at the chart…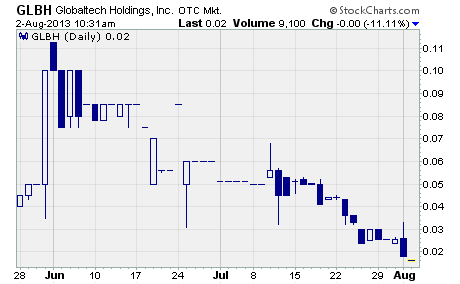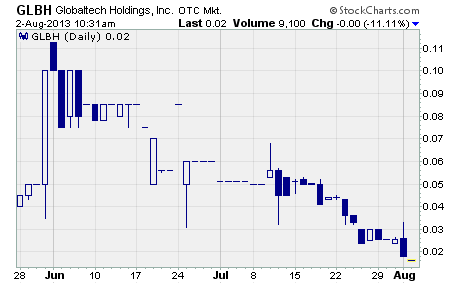 As you can see, GLBH has been declining steadily since early June.  After soaring to a high of 11.5 cents on June 3rd, the stock has shed 83% of its value. 
Interestingly, the big gain in early June was due to the first round of pumping for this stock.  Now someone's hoping a second round will produce similar results.
We urge you not to get sucked into buying these shares.
Our research shows this company is still in the early development stages and has a history of failure. 
The company was formed in Nevada in 1995 under the name Admar Group to provide managed health care.  However, what the company did from 1996 to 2007 is not clear as we couldn't find any filings for those years.
In 2007, The SEC issued a Form 15 terminating the registration of the company's common stock.  At that time, the company was operating under the name, Atlas Resources, Inc.
According to the most recent annual report (2012), the company was a dormant corporation prior to August 30, 2012.  The company's charter had been revoked by the state for failing to comply with corporate formalities, make informational filings, and pay required fees.
Globaltech's charter was reinstated on August 30, 2012 under a court case that appointed Ricochet Trading as lawful custodian of the company.  While the company boasts it never filed bankruptcy, management must have been doing something wrong to have a custodian appointed for it by the court.
The company's financials are just as ugly as its corporate history.
At the end of last year, Globaltech had just $687 in total assets compared to $32,000 in total liabilities.  It produced zero revenue in 2012 while racking up general and administrative expenses of $31,313. 
As a result, the company posted a loss for the year in the amount of $31,313.
In May 2013, Globaltech announced its new mission is to acquire and manage property & casualty, life, and health insurance companies.  It also said it has changed its name to Global Insurance Holdings, Inc.
It certainly looks like Globaltech tried to "reinvent" itself just in time for the first round of pumping in June.
In fact, that campaign was aided by a couple of well-timed press releases claiming the company had identified three acquisition targets in the property & casualty insurance industry.  The company also said it "projects strong recurring revenue growth in the second half of 2013, fueled by acquisitions."
A later press release announced that Globaltech's board has approved the company's first acquisition scheduled for June 28, 2013.  However, there has been no word from the company since as to whether the acquisition was actually closed.
However, on July 18, 2013, the company said it will be "re-focusing its marketing efforts toward high margin, traditional Life and Health insurance industry products."
What????
What happened to the juicy acquisition of the property & casualty insurance company?
Our take…
Globaltech's lack of a consistent operating history, past termination of its stock registration, past revocation of its charter, appointment of a custodian, and the recent conflicting press releases make it hard to trust management in our opinion.  We suggest you look for better opportunities in the penny stock market for your investment dollars.
Other Penny Stocks Being Pumped This Week
Emo Capital Corp. (OTCQB: NUVI) – 20 promoters with 88 newsletters have been paid over $35,000 so far in August to hype NUVI.
ADB International Group, Inc. (OTCQB: ADBI) – 16 promoters with 85 newsletters were paid $97,000 in July to plug ADBI.
As you know, penny stocks are a great place to invest your money.  You just have to do your due diligence to stay away from all the schemes and scams out there these days!
Profitably Yours,
Robert Morris
Category: Pump & Dump Alerts