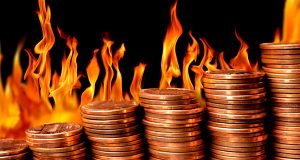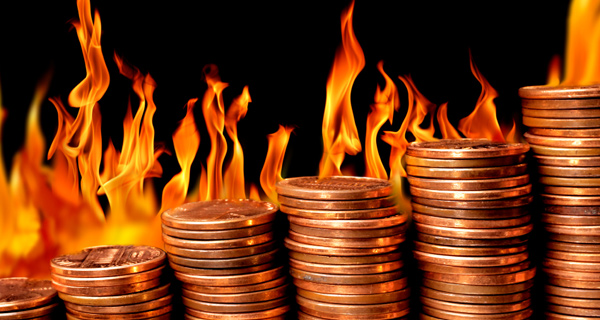 It's an exciting time for penny stocks, especially FriendFinder Networks (FFN), BioCryst Pharmaceuticals (BCRX), and Uranium Resources (URRE).  Let's take a closer look at these three hot penny stocks…
FriendFinder Networks (NASDAQ: FFN)
FFN soared 93% last week!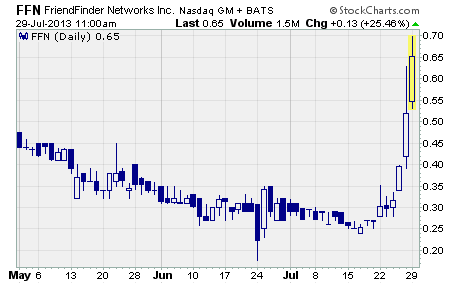 FriendFinder Networks is the name this company adopted in 2008.  Prior to that change, it went by its more well-known moniker, Penthouse Media Group.  The company operates in two business segments.
The Entertainment segment produces and distributes original pictorial and video content.  It also licenses the Penthouse brand to various consumer product companies.  And it publishes branded men's lifestyle magazines.
The Internet segment operates various adult entertainment websites.  These offer photos, live interactive video, recorded video, premium content, social networking, online personals, online chat rooms, instant messaging, blogs, message boards, and free e-mail.        
Why's the stock jumping?
It appears the recent run up is due to a positive opinion piece published on a popular investment research website.  The key point from the article is that FFN is poised to restructure its back breaking $500 million debt load.
The author claims it would be a major short-term catalyst that could drive the shares up by 100% to 200%.
While the restructuring hasn't happened yet, most of the forecasted stock gains have already materialized.  FFN has gained a whopping 140% since the article was published. 
With that said, the stock may have more upside ahead.  The lone analyst covering FFN has a price target of $3.35.   
BioCryst Pharmaceuticals (NASDAQ: BCRX)
BioCryst is a small biotech focused on developing novel drugs that block key enzymes involved in infectious and inflammatory diseases.  It currently has two drugs in late-stage clinical trials and two others in early-stage testing.  What's more, the company has collaborative relationships with Mundipharma International Holdings, Shionogi & Co., and Green Cross Corporation.
Last week, one of the BioCryst's early-stage drugs generated positive buzz for the company.
And as a result, the stock shot higher by 88%!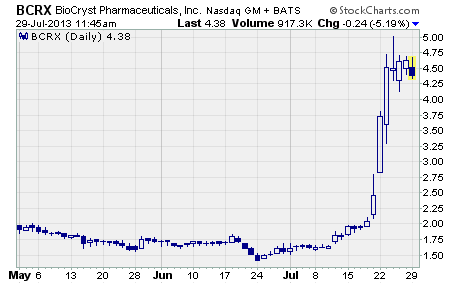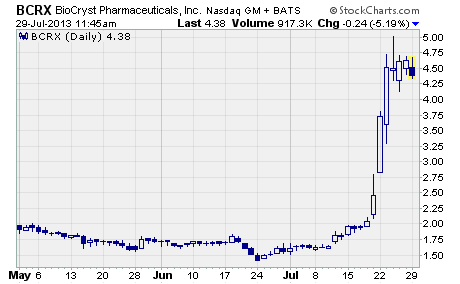 What happened?
BioCryst announced that its phase 1 study of BCX4161 successfully met all of its objectives.  And it went on to say the results support advancing the drug into a phase 2a trial later this year.
Nothing drives a biotech stock like positive trial results.
BCX416 is the company's novel drug for the treatment of hereditary angiodema.  The disease is a rare, severely debilitating and potentially fatal genetic condition that occurs in about 1 in 10,000 to 1 in 50,000 people.
After finishing the prior week at $2.46, BCRX surged to a high of $5.02 per share before closing out the week at $4.62.  These shares are now up 155% in just the past two weeks. 
Uranium Resources (NASDAQ: URRE)
A week ago we told you about the exciting short squeeze that ignited a monster rally in USEC (NYSE: USU).  This week we're highlighting another uranium producer that is surging higher on a short squeeze of its own.
Introducing, Uranium Resources…
Uranium Resources engages in the acquisition, exploration, development, and mining of uranium properties using the in situ recovery mining process.  The company's based in Lewisville, Texas and owns uranium properties in both Texas and New Mexico.  Its customers are utilities who use nuclear power to generate electricity.
Here's the thing… URRE climbed 60% last week!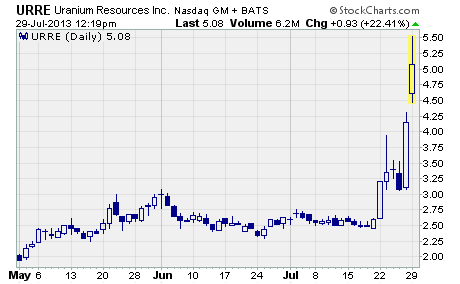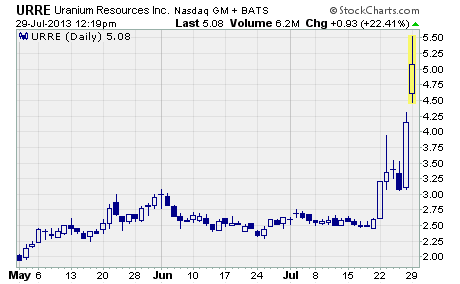 What's going on?
The stock's enjoying a massive short-covering rally. 
Before this rally began, URRE had been declining for nearly a year.  In fact, the stock had fallen by a gut-wrenching 69% from its 52-week high of $8.50 set last July.
As you might imagine, the decline was mostly due to short sellers who had been pounding the stock for months.  But now the shares are jumping in the wake of USU's incredible run.  And as the short sellers cover their positions, they're driving URRE higher and higher.
What's more, it looks like the rally might have legs.
Before the recent surge, a stunning 13% of URRE's float had been sold short.  And the stock's short ratio stood at an eye-popping 36.4.  Remember, a short ratio of 36 means it will take 36 days for a short seller to cover their position. 
In other words, there's still a ton of short covering that needs to be done.
URRE climbed from the prior week's close of $2.60 per share to a high of $4.31 before finishing the week at $4.15.  And as I write, the stock's up another 22% in afternoon trade.
Profitably Yours,
Robert Morris
Category: Hot Penny Stocks