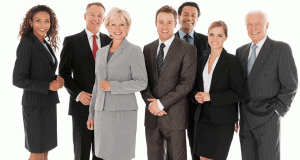 Piggy-backing the moves of company insiders is a popular strategy for many investors.  After all, no one has more knowledge of what's happening at a company than its executives and directors.
While there is some debate about whether this strategy still works, there is research to support it.
One source is the book, Investment Intelligence From Insider Trading (2000), written by University of Michigan finance professor, Nejat Seyhun.  This fascinating book shows how investors can use insider trading data to their advantage.
Based on data from his extensive research, Professor Seyhun concluded that a stock's price tends to rise more following net purchases by company insiders.
He reached this conclusion after analyzing all insider trades in every publicly held firm over a 21-year period.  That's more than one million insider transactions!
Professor Seyhun's findings are strong evidence that following the moves of company insiders can be profitable for individual investors.  With that in mind, here are a couple of penny stocks that have seen insider purchases recently:
Ladenburg Thalmann Financial Services (NYSE: LTS)
Ladenburg Thalmann is a full-service financial firm that provides innovative, customized financial solutions.  Its services include brokerage, advisory, investment banking, equity research, institutional sales and trading, asset management, and trust services.  Together with its subsidiaries, Ladenburg Thalmann has 2,800 financial advisors and $90 billion in assets under management.
With such an impressive business, it's no wonder the company's shares have soared over the past 12 months…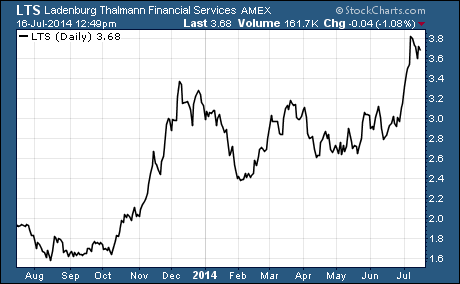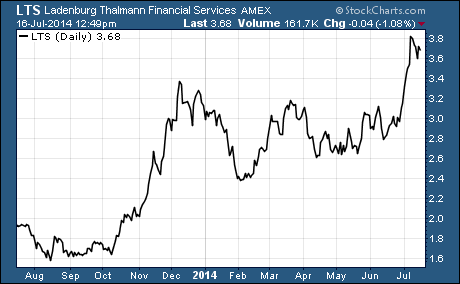 As you can see, LTS has climbed from a low of $1.61 hit last August to a current price of $3.68.  That's a stunning gain of 129% in just under a year's time.  By comparison, the Russell 2000 index of small-cap stocks has increased by just 12.3% over that same time frame.
While the shares are up significantly, a couple of company insiders appear to think the stock will head higher from here.
Directors Phillip Frost and Saul Gillinski have together purchased over 500,000 shares of LTS this month at prices ranging from $3.26 to $3.77.  All in all, these two high profile insiders have invested over $1.7 million into the stock during July.
And the month's only half over!
If you're looking for a solid penny stock in the financial services industry, you won't find any better than Ladenburg Thalmann.  This one's definitely worth a closer look.
Intevac (NASDAQ: IVAC)
Intevac provides process manufacturing equipment solutions to the hard disk drive and photovoltaic industries.  The company's equipment business is the market and technology leader in the hard drive industry with approximately 60% of all magnetic disk media produced worldwide.  And its photonics business is a recognized leading developer of advanced high-sensitivity digital sensors, cameras, and systems for the defense industry.
Despite this remarkable business profile, Intevac shares have dropped significantly in the past three-plus months.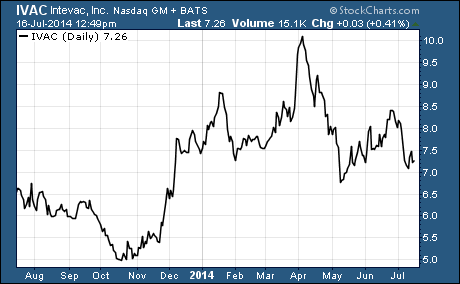 After setting a 52-week high of $10.20 on April 3rd, IVAC endured a steep decline to a low of $6.63 in early May.  The stock then rallied to a high of $8.57 in late June before pulling back to its current price of $7.26.
All in all, the shares have lost 29% of their value since they set the one-year high.
But perhaps IVAC is gearing up for a nice rally.
So far this month, Director Matthew Drapkin has bought 82,358 shares of IVAC at $7.00 per share.  That's a total investment of $580,706 in just two weeks' time.  And the purchases have increased his position in IVAC by nearly 7% to 1,283,978 shares.
No question about it, this heavy insider buying is a bullish sign for the stock.
What's more, Wall Street analysts have been getting more positive on Intevac lately.  They're forecasting a 14% rise in revenue for 2014 followed by a 25% jump in 2015.  And their revised earnings estimates now forecast smaller losses for both this year and next.
Take a closer look at IVAC for your own portfolio.  This exciting penny stock may be poised for higher prices over the months ahead.
Profitably Yours,
Robert Morris
Category: Investing in Penny Stocks, Penny Stocks to Watch