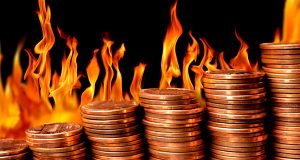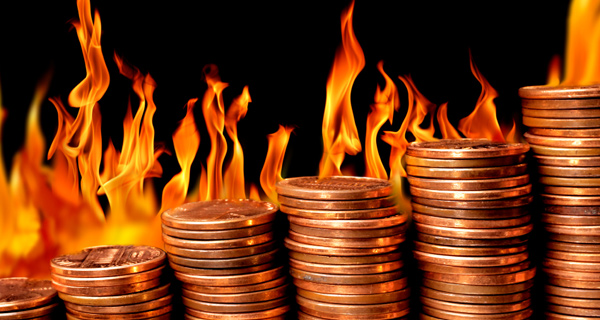 It's an exciting time for penny stocks, especially hot penny stocks like Crumbs Bake Shop (CRMB), Digital Ally (DGLY), and WPCS International (WPCS)…
Crumbs Bake Shop (OTCPINK: CRMB)
CRMB rose like a phoenix from the ashes last week…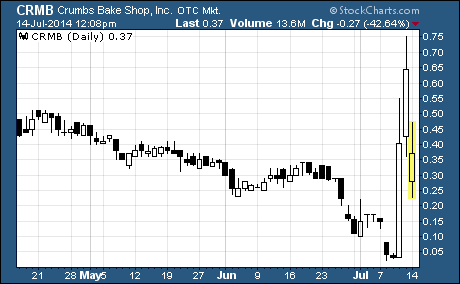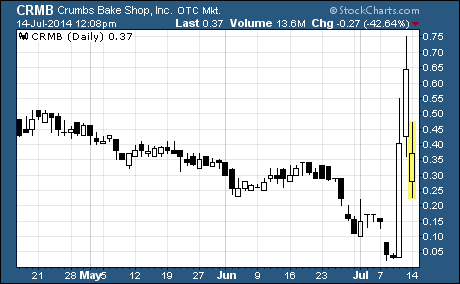 As you can see, the stock soared from Wednesday's low of 3 cents a share to a high of 75 cents on Friday before finishing the week at 65 cents. The unexpected two-day rally provided the stock with a stunning 279% gain for the week.
The shares plunged earlier in the week after the company announced on Monday it had closed its 50 stores spread across 10 states and Washington, D.C. Investors fled the stock as it appeared the company was going out of business.
The first Crumbs Bake Shop opened its doors in 2003 on Manhattan's Upper West Side and quickly became famous for its oversized cupcakes. The company grew rapidly over the next decade, opening stores in several states, and then going public in 2011.
But as the cupcake craze faded, Crumbs has succumbed to a combination of hefty losses and rising debt. And it certainly looked like the great cupcake experiment had reached its untimely end early last week.
But then a life line was thrown to the company on Thursday by none other than Marcus Lemonis, the star of CNBC's reality TV show "The Profit".
Known as the "business turnaround king", Lemonis, along with the owner of Dippin' Dots ice cream, Fischer Enterprises LLC, offered to purchase Crumbs Bake Shop, provided the company filed for Chapter 11 bankruptcy. Crumb's agreed to the deal and filed for bankruptcy on Friday.
Under the proposed deal, Lemonis and Fischer will provide desperately needed financing to Crumbs during the bankruptcy process. The parties hope to complete the transaction over the next 60 days, pending approval from the bankruptcy court.
While this appears to be great news for Crumbs Bake Shop, it's not clear how existing shareholders will be impacted by the deal. Lemonis and Fischer announced this morning that they would like to create a private Crumbs Bake Shop when it emerges from bankruptcy.
Since shareholders rarely receive any value for their shares when a company goes through bankruptcy, we suggest you steer clear of CRMB.
Digital Ally (NASDAQ: DGLY)
Digital Ally supplies advanced technology products to law enforcement, homeland security, and commercial customers. Its primary focus is digital video imaging and storage.
Last week, Digital Ally received great news from the US Patent and Trademark Office. The company was notified that its initial patent on its VuLink connectivity system has been approved.
The VuLink is the first product on the market that enables body cameras and in-car video systems to be automatically or manually activated simultaneously. In other words, VuLink allows officers to provide audio/video surveillance from multiple vantage points in order to more fully capture an event.
Management says it has already received "considerable interest" in VuLink from the law enforcement community. And they believe VuLink will not only help Digital Ally compete in the rapidly growing market for body cameras but also enhance the market appeal of its new digital in-car video system.
Best of all… the company has already begun shipping the new product to law enforcement customers.
Of course, DGLY soared on this plethora of positive news…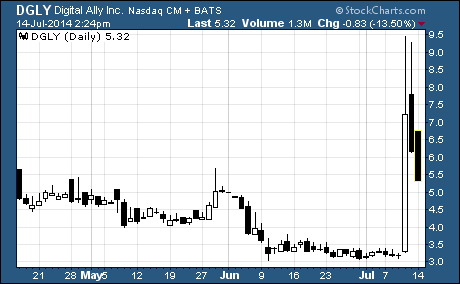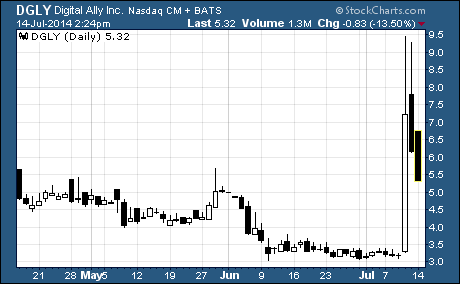 The stock surged from the prior week's close of $3.30 to a high of $9.44 on Thursday before ending the week at $6.15. That huge upside move was good for a gain of 86% in just one week's time.
With that said, the stock is struggling to hold onto its gains.
As I write, DGLY is down more than 13% intra-day to $5.32 with more than four-times the average daily number of shares changing hands. You might want to wait for this pullback to play out before jumping into this stock.
WPCS International (NASDAQ: WPCS)
After falling to a low of 51 cents in early May, WPCS traded in a sideways range over the next two months. But then late last week, the stock surged to levels last seen before the early May plunge.
Take a look at the chart…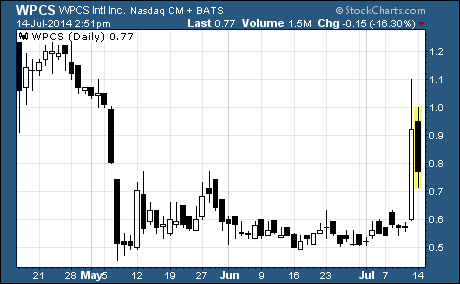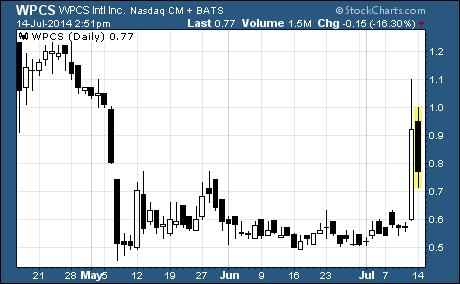 As you can see, WPCS shot up from the prior week's close of 55 cents to a high of $1.10 on Friday before ending the week at 92 cents. The surprise rally carried the stock to a 67% gain for the week!
I'll explain why in a moment… but first a word about the company.
WPCS International provides design-build engineering services for communications infrastructure worldwide. Its three divisions offer wireless network solutions, specialty construction, and electrical contracting services. The company serves public services, healthcare, energy, and corporate enterprise markets.
Why did the stock take off last week?
WPCS soared on news that the company's Suisun City operations received $5.5 million in new contracts during the first five months of 2014. This compares to new contracts totaling $2.3 million received during the same period of 2013. That's a year-over-year increase of 141%!
Despite this good news, WPCS is finding it difficult to hang on to last week's heady gains.
As I write, the shares are down more than 16% intra-day to 77 cents on nearly four times the stock's average daily volume. We suggest keeping an eye on this stock to see if a better entry point materializes.
Profitably Yours,
Robert Morris
Category: Hot Penny Stocks