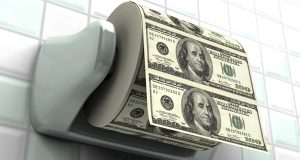 Welcome to Pump and Dump Friday, our weekly feature where we identify potentially "bogus" promotions going on in penny stocks.
Today we're exposing one of the most extensive penny stock pump and dump campaigns of the week… PositiveID (OTCPINK: PSID).
If you don't know how these schemes work, be sure to check out our free report that exposes the whole thing.
Without further ado, here is today's disaster waiting to happen:
PositiveID (OTCPINK: PSID)
PSID is one of the most heavily hyped penny stocks of the past week.  Our sources indicate that 19 promoters have pumped the stock through more than 35 newsletters.  And a good number of them have been paid nearly $30,000 for their services.
But this shouldn't come as a big surprise.
These shares have had a relationship with the pump and dump machine for quite a long time.  I did a little research and found that PSID has been pumped on and off since at least January 2011.
Now that's what I call dedication to a promotion effort!
And like so many of those before it, the current campaign is having some success…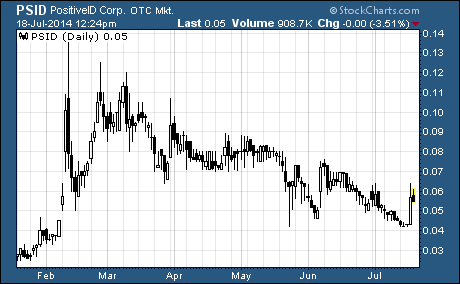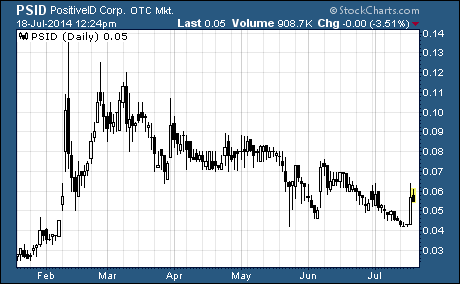 PSID took off like a rocket yesterday.  The stock surged from the prior day's close of $0.0432 to a high of $0.064 before finishing the day at $0.057.  That's a 32% gain in just a single trading day.
However, it's not clear the shares have begun a new uptrend.
As you can see, the stock may still be mired in a downtrend that began over five months ago.  Since hitting a high of $0.138 in early February, PSID has lost 57% of its value.  Even with yesterday's stunning rise, there's no decisive evidence PSID has found its way out of the weeds just yet.
With that said, the pump campaign isn't the only reason the shares rallied.
The stock's rise was also fueled by an optimistic financial forecast provided by the company.  On Thursday, management said PositiveID has received a new order from a large government contractor.  And as a result, they reiterated their revenue estimate of $4 to $10 million for the year.
What exactly does the company do?
PositiveID is developing molecular diagnostic systems for bio-threat detection and rapid diagnostic testing.  The company's leading product in development is the M-BAND (Microfluidic Bio-Agent Autonomous Networked Defender) system.  It's an airborne bio-threat detection system developed for the homeland defense industry to detect biological weapons of mass destruction.
While this sounds intriguing, it's important to note that the M-BAND system is not yet fully developed.  In fact, the new order for M-BAND systems was part of an ongoing testing and evaluation process by an unnamed government contractor.
But one thing is certain… PositiveID really needs this product to be a huge success.
You see, the company's financial situation is in dire shape.
At the end of the first quarter, it had just $101 in current assets (including $96 in cash) compared to $6,178 in total current liabilities.  The company had a working capital deficiency of $6.1 million and an accumulated deficit of $127.3 million.
What's more, the company has incurred losses since its inception in 2001 and hasn't generated any revenue since 2009.
It will be interesting to see if PositiveID is able to turn the M-BAND system into a cash cow.  But in the meantime, it looks like the stock will continue to be subject to the whims of the pump and dump crowd.
Profitably Yours,
Robert Morris
Other Penny Stocks Being Pumped This Week
BizAuctions (OTCPINK: BZCN) – 34 promoters with 62 newsletters have been paid over $35,000 this month to hype BZCN.
Media Analytics (OTCPINK: MEDA) – 18 promoters with nearly 30 newsletters have been paid over $50,000 this month to hype MEDA.
Category: Pump & Dump Alerts