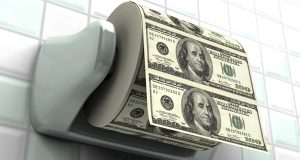 Welcome to Pump and Dump Friday, our weekly feature where we identify potentially "bogus" promotions going on in penny stocks.
Today we're exposing one of the most extensive penny stock pump and dump campaigns of the week:  Trio Resources (OTCQB: TRII).
If you don't know how these schemes work, be sure to check out our free report that exposes the whole thing.
Without further ado, here is today's disaster waiting to happen:
Trio Resources (OTCQB: TRII)
TRII is one of the most heavily hyped penny stocks of the past week.  According to our sources, 15 promoters have been paid $48,000 this month to pump the stock through nearly 44 newsletters.
The current campaign comes on the heels of a prior pump project for TRII conducted in October.  However, neither effort has succeeded in driving the stock higher.
Take a look at the chart…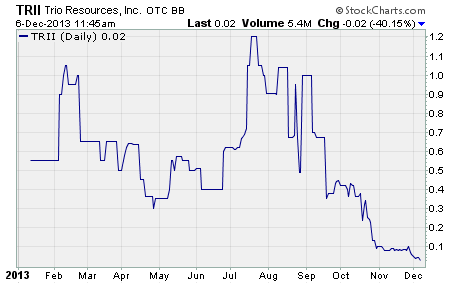 TRII has plunged from a high of $1.27 set in July to a current price of just $0.02 per share.  That's a whopping 98% drop in just over four months' time.  And more than $420 million in market value has been wiped out in the process.
Not even back-to-back pump campaigns could right this sinking ship.
Trio Resources is an exploration stage mining company based in Toronto, Canada.  It owns 94 acres of land (the Duncan Kerr property), which includes two contiguous mining claims located approximately 3km southeast of Cobalt, Ontario.
The company's stated mission is to conduct an exploration program, in conjunction with milling initiatives to monetize its existing above-ground mineralized material on-site, with the purpose of being cash-flow positive.  With that said, the company has not had much success to date.
According to the most recent quarterly report for the period ending June 30, 2013…
"Since its inception on May 16, 2012, the Company has not generated significant revenue and has incurred a net loss of $2,101,595…. Accordingly, it has not generated positive cash flows from operations and has primarily relied upon debt and equity financing from third parties and related parties to fund its operations…. However, there can be no assurance that such financial support shall be ongoing or available on terms acceptable to the Company.  These factors raise substantial doubt about the Company's ability to continue as a going concern." 
At the moment, Trio is focused on trying to monetize its stockpiles of approximately 1.3 million tons of mineralized material.  The company says a recent assay estimates the above ground assets contain 53 ounces of silver per ton.
But its efforts have fallen short.
In April, the company announced it had signed a deal with United Commodity AG to process 334 tons of Trio's feed concentrate per month.  Trio claimed the deal would generate $350,000 to $500,000 in revenue per month and a total of $30 million over the life of the five-year contract.
However, it appears only one shipment was made to United Commodity AG in the second quarter, and it generated just $166,299 in revenue.
What's more, there are no announcements of subsequent shipments to United Commodity AG after the initial one in April or May.  The third quarter report, however, states the company generated revenue of $172,016 from the sale of stockpiled mineralized material.
Then in September, Trio said it had purchased a 100 ton mill to process its stockpiled material in house.  And the company also announced at that time it had cancelled its contract with United Commodity AG.  
The mill is supposed to be operational by the end of this year.
And now earlier this week, Trio said it has signed an off-take agreement with a refinery to process precious metals produced by the company's mill.  Trio claims the deal will produce $40 million of precious metals over the two-year contract.
Here's the thing…
I get nervous when a penny stock company issues press releases claiming huge revenues are coming in the near future.  Too often have I seen these bold proclamations never bear any fruit.  And then, when the initial predictions fail to come true, I become highly skeptical of any future audacious claims.
That's where I'm at with Trio. 
The company has already failed to deliver on several big promises.  Management continues to issue press releases that promise even larger revenues coming down the pike.  And the company's stock is being heavily hyped through a multi-month penny stock promotion campaign.
Too many red flags for me.
I recommend you stay away from TRII.  Let management prove it can actually deliver on its promises before you invest your hard earned money in them.
Other Penny Stocks Being Pumped This Week
Brazil Resources (OTCQX: BRIZF) – 6 promoters with 21 newsletters have been paid more than $100,000 this month to hype BRIZF.
Global Gaming Network (OTCPINK: GBGM) – 6 promoters with 21 newsletters have been paid $50,000 in December to plug GBGM.
As you know, penny stocks are a great place to invest your money.  You just have to do your due diligence to stay away from all the schemes and scams out there these days!
Profitably Yours,
Robert Morris
Category: Pump & Dump Alerts