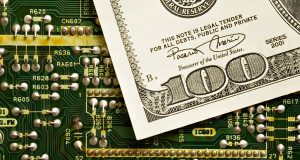 Earlier this week, I talked about the technology sector and how it's my favorite penny stock sector for 2012.  But tech isn't the only attractive sector.  And it's beginning to look like many stocks are underpriced as we head into the new year.
Here's the deal…
A good quick-and-dirty way to measure if a sector is undervalued is by looking at its overall price to earnings ratio (P/E).  In a very general sense, P/E ratios under 15 are considered low… and that often means undervalued as well.
With 2011 nearly in the books, we have a pretty good idea of what each sector's P/E is for the year.
And the results paint a compelling picture…
In a nutshell, several sectors have P/E ratios well below historical averages.
Now, the numbers I'm about to discuss are for S&P 500 sectors… in other words, large cap stocks.  However, penny stocks often trade at even lower P/E ratios than their larger brethren. 
So, if the large caps look undervalued, you can bet the penny stock equivalents are even more attractive.
Let's start with my pick for top sector in 2012, technology.  Tech's 2011 P/E is a miniscule 13.7x.  Historically, that ratio has been at least 25x… and sometimes much higher.
And with the rise of social media, along with skyrocketing demand for smartphones and tablet PCs, tech's a great bet to return to its glory days.
Another sector I like is energy.  The energy sector has historically traded at a P/E near 20x.  Its current P/E is a mere 10.5x.  With demand for energy steadily on the rise, that's a flat-out unreasonably low level.
Finally, I think healthcare is worth a look.  It's trading at just under a 12x P/E but traditionally is closer to 20x.  And with America's well-know aging population, healthcare services are only going to be in more demand in 2012.
Look, the global economic and political landscape is still fraught with uncertainty.  But 2012 is shaping up to be the year of resolution.  And there's simply no way stocks can continue to trade at such a discount to their historical levels.
Bottom line…
If you're looking for the best deals in stocks, look at the technology, energy, and healthcare sectors.  Best of all, all three sectors are loaded with quality penny stocks.
Yours in profit,
Gordon Lewis
Category: Energy Stocks, Healthcare Stocks, Penny Stocks to Watch, Technology Stocks