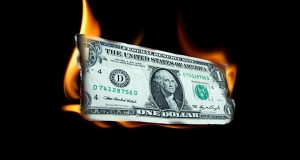 Welcome to today's Pump and Dump Alerts, where we will be exposing these two companies:  Titan Resources International (TNRI) and Vendum Batteries (VNDB).
Here we identify a couple of the potentially "bogus" promotions going on in penny stocks today.
If you don't know how these schemes work, be sure to check out this free report that exposes the whole thing.
Without further ado, here are today's "disasters waiting to happen":
Titan Resources International (TNRI)
Titan Resources International is a junior mineral resource exploration company.  Prior to becoming a mineral explorer, TNRI was known as Gold Mountain Winery.  For the nine months ending September 30, 2010, the company posted a $47,642 loss on $0 revenue.  More recently, Titan Resources is still reporting $0 revenue, resulting in continued losses.
This sub-penny stock currently trades near $0.0003.
Garden State Resources NJ, LLC was paid $5,000 to pump shares of TNRI.   
Vendum Batteries (VNDB)
Vendum Batteries is a company with a pending patent on a non-toxic, carbon-based light-weight battery.   VNDB's battery contains none of the toxic elements used in conventional batteries.  In addition, the battery uses carbon nano-tube and cellulose-based technology making it biodegradable.  The company generates no revenue and lost $24,851 in their most recent quarter.
Currently shares of this sub-penny stock now trade near $0.0033.
Hot Stock Profits was paid $2,500 to tout VNDB.
A final word (and warning).
These are just a few of the potential "pump and dumps" we've seen lately.
Remember, there's a lot more of this going on than we can highlight here.
For more in-depth coverage of potential penny stock pump and dumps, be sure to sign up for our free newsletter, Penny Stock Research.
As you know, penny stocks are a great place to invest your money.  You just have to do your due diligence to stay away from all the schemes and scams out there these days!
Until next time,
Brian Walker
Category: Pump & Dump Alerts, Pump & Dump Daily