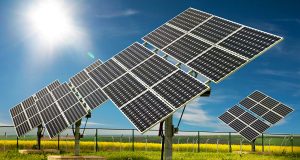 If you bet on solar stocks at the end of 2012, you're feeling pretty smart right about now.  Stocks in this beaten down industry have been soaring off the chart in 2013.  Take a look at the Guggenheim Solar ETF (NASDAQ: TAN) for example.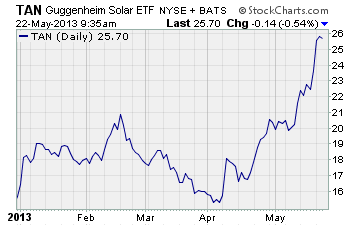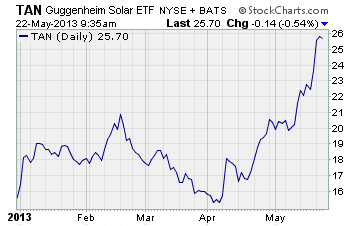 TAN has exploded from just under $16 per share at the end of 2012 to nearly $26 today.  In fact, the popular solar ETF's up more than 65% so far this year.  Now that's a heck of a rally in a short period of time.
As you might imagine, many individual solar penny stocks have also shot higher this year…
Canadian Solar (CSIQ)… +147%
JA Solar (JASO)… +122%
Hanwha SolarOne (HSOL)… +71%
Trina Solar (TSL)… +65%
Ascent Solar Technologies (ASTI)… +51%
Yingli Green Energy (YGE)… +51%
That's all well and good, but an upcoming event may spell the end of this rally for a certain segment of solar stocks.
You see, the European Union is set to decide on June 6th whether to impose anti-dumping tariffs on a group of foreign solar companies.  If the EU goes ahead with the proposed import duties, the cost of most photovoltaic panels is expected to rise by 45% overnight!
Who are the intended targets?
You guessed it… Chinese solar manufacturers. 
The EU has been investigating claims of dumping by these companies since September 2012.  And according to a recent Bloomberg report, negotiations between the EU and China aren't likely to lead the EU to extend its deadline.  
If the duties go through on June 6th, over 100 Chinese solar makers producing an estimated $26 billion worth of solar products will be negatively impacted.
The inevitable result of these tariffs would be to drive solar panel prices higher in a hurry.  In fact, they've already started creeping up as many expect the EU to move forward with the penalties. 
And once the duties are approved, solar panel prices will likely jump even higher.
This would be bad news for Chinese solar makers.  Significantly higher prices will almost certainly cause demand for Chinese made solar panels to plunge.  And a big drop in demand would mean revenues at Chinese solar companies are about to take a big hit.
What's more, the EU tariffs wouldn't be the first penalties imposed on Chinese solar companies in recent months.
The US has already imposed its own set of anti-dumping tariffs on Chinese solar manufacturers.  If the EU follows suit, these companies will be effectively hamstrung in two of the world's largest solar markets.
In fact, industry experts believe the one-two punch of tariffs in the US and EU would likely cause several Chinese solar makers to follow in the footsteps of Suntech Power (NYSE: STP).  You'll recall Suntech's Chinese solar power unit declared bankruptcy earlier this year.
The upshot…
With the EU's decision on anti-dumping tariffs for Chinese solar makers fast approaching, it may be time to take your profits in these stocks off the table.  Consider locking in your gains on any Chinese solar stocks before they fall back to earth.
Profitably Yours,
Robert Morris 
Category: Chinese Penny Stocks, Solar Stocks