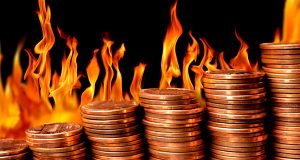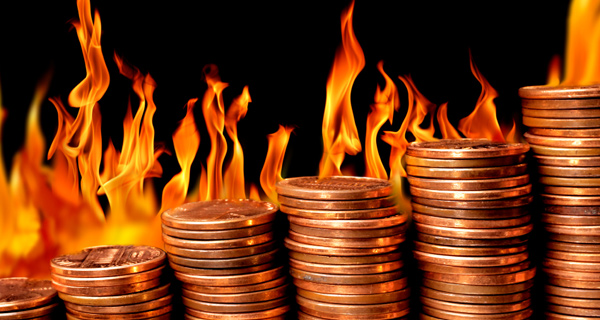 It's an exciting time for penny stocks, especially Real Goods Solar (RSOL), Ever-Glory International Group (EVK), and Sky-Mobi Limited (MOBI).  Let's take a closer look at these three hot penny stocks…
Real Goods Solar (NASDAQ: RSOL)
RSOL soared 117% last week!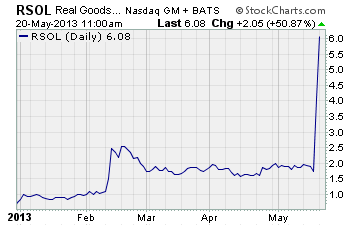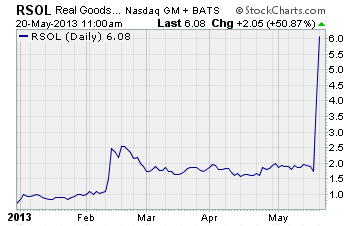 Real Goods Solar is a residential and commercial solar energy engineering, procurement, and construction company in the US.  They install residential and commercial solar energy systems that are between 3 kilowatts and 1 megawatt (MW) output as well as larger commercial systems in the 3 to 5 MW range.
Why's the stock surging?
Investors see potential for stronger growth at RSOL this year and beyond.  The company recently announced a new partnership with Lennar Homes, the third largest homebuilder in the US.  Under the deal, RSOL will offer solar installations to all homes in new Lennar communities in California with potential to expand the program to other states.
As you can see, RSOL skyrocketed on the news! 
After closing the prior week at $1.86 per share, the stock shot up to a high of $4.23 before ending the week at $4.03.  The shares are up another 51% today to $6.12 as I write.
Ever-Glory International Group (NYSE: EVK)
Ever-Glory is a manufacturer and retailer of apparel for men, women, and children.  Based in Nanjing, China, the company offers products to the casual wear, sportswear, and outerwear brands and department stores located in China, Europe, the US, and Japan.  At the end of last year, Ever-Glory operated 727 stores, including 35 flagship stores throughout China.
Over the past week, EVK has surged 52%!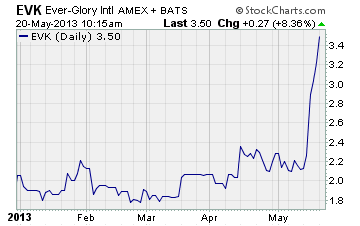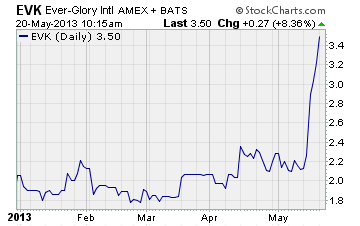 Here's why…
Last Wednesday, the company posted robust first quarter numbers.  For the quarter, revenue increased by an impressive 47% to $78 million.  Net income jumped 46% to just over $3 million.  And earnings rose by 50% to $0.21 per share.
The strong first quarter was due primarily to an outstanding 107% surge in revenue at the company's retail stores.  Ever-Glory has added 271 new LA Go Go stores since the first quarter of 2012.  And same store sales are rising sharply as well.   
Investors clearly liked the news. 
They sent EVK surging from $2.12 the prior week to a high of $3.50 on Thursday for a hefty 65% gain.  The stock ended the week at $3.23, but it's up more than 8% in morning trade to $3.50 per share.
Sky-mobi Limited (NASDAQ: MOBI)
Sky-mobi operates Maopao, the leading mobile application store in China based on number of user visits.  Through its partnerships with over 860 handset makers, Sky-mobi ensures that Maopao comes pre-installed on a large number of feature phones and a growing number of smartphones.  Maopao offers a wide variety of mobile apps, including games, books, and music. 
But that's not all…
The company also operates Maopao Community, a fast-growing mobile social network in China.  Members enjoy mobile social games, instant messaging, blogging, personal profiling, content sharing, and virtual gifting.  Maopao Community already has more than 248 million members and over 10 million active users.
Here's the thing… shares of MOBI jumped 35% last week!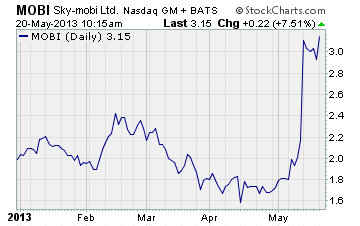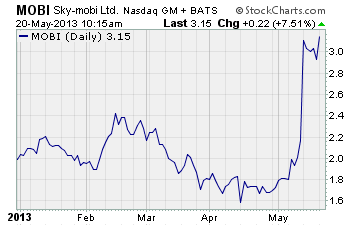 What's going on?
Investors are clearly excited about the company's prospects amid soaring demand in China for low-end smartphones.  According to management, the number of smartphone users on Maopao more than doubled quarter-over-quarter and now exceeds 20 million users.  What's more, the number of visits to Maopao from smartphone users topped 251 million visits.
CEO Michael Tae Song put it best when he said, "we remain focused on the monetization opportunities available in this segment and are confident in our strategy to service these users, staying in front of China's evolving marketplace."
Thanks to the rapid growth of Maopao's smartphone user base, MOBI's fiscal fourth quarter 2013 revenues increased nearly 10% sequentially.  And they beat the high end of management's revenue guidance.
As a result, MOBI surged from $2.17 to a high of $3.36 before settling at $2.93 for the week.  And the stock's up 7.5% today to $3.15 as I write.
Editor's Note:  For more information about Sky-mobi Limited (MOBI), check out my free report that's included with a quarterly subscription to my investment advisory service, China Stock Insider.
Profitably Yours,
Robert Morris
Category: Hot Penny Stocks