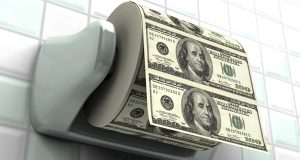 Welcome to Pump and Dump Friday, our weekly feature where we identify potentially "bogus" promotions going on in penny stocks.
Today we're exposing one of the most extensive penny stock pump and dump campaigns of the week:  GDT Tek (OTCPINK: GDTK).
If you don't know how these schemes work, be sure to check out our free report that exposes the whole thing.
Without further ado, here is today's disaster waiting to happen:
GDT Tek (OTCPINK: GDTK)
This week's featured pump and dump penny stock is GDTK.  According to our sources, at least 15 different promoters have pumped the shares through 108 newsletters.  And more than $75,000 has been paid so far in May to hype the stock.
But this most recent campaign hasn't worked out too well…
After hitting a high of $0.061 per share on May 16th, GDTK has been dropping like a stone.  The stock is currently down more than 26% from that recent high to $0.045.  And the shares have traded as low as $0.04 earlier this week.
GDTK insiders and promoters were probably hoping for a repeat of the previous pump done in the fall of 2012.  Back then, the stock soared from $0.018 to a high of 21 cents a share. 
It was a mind-boggling 1,066% gain in less than two weeks' time.
Of course, many unsuspecting investors lost their shirts when the dumping began.  The stock ultimately plunged to a low of $0.011 in early January.  That's a free fall of 95% in just two months.
So, what's the story on GDTK?
It's hard to get any current information on GDT Tek as the company hasn't filed a quarterly or annual report since July 2011.  However, to be fair, a recent press release from the company claims it will be completely current with all financial filings before September 2013.
We're not holding our breath…
According to the annual report for fiscal year 2010 (filed in July 2011), the company has gone through several name changes.  It has also engaged in various businesses from food product manufacturing to something internet-related to wireless equipment installations and service.
Currently, the company's trying to get power plants and landfills to adopt its waste heat to electric power generation technology.  And GDT Tek recently announced plans to acquire a company "that turns landfill gas into electricity".
More on that in a moment…
Now it's not hard to understand why the company stopped filing its financial statements.  The FY2010 annual report shows GDT Tek was on life support…
The company had assets of just over $1 million, liabilities of $14.1 million, and negative shareholder equity of $13.1 million.  What's more, the reported accumulated deficit was a whopping $34.5 million!
And the company's financial performance in FY 2010 was just as dismal. 
It failed to generate even one penny of revenue during the year.  Plus, it reported a loss of $5.9 million.
So, how is this financially strapped and heavily indebted company planning to acquire another company?  You guessed it… they're going into more debt.  The company plans to do a $20 million bond offering to fund the acquisition.
But don't worry…
These captains of industry promise that the bond offering and the debt service on it will "easily be supported from the current net cash flow being generated" by the target company.  That's a bold statement given management's track record.  But there's no way to confirm its accuracy without seeing the financials on the company being acquired.
While it remains to be seen if GDT Tek will make good on its many promises, we're not very confident in management's ability to run a company.  As such, we suggest you steer clear of these shares. 
Remember, there's a reason why any company has to resort to paid promotions to get investors to buy its stock.    
Other Penny Stocks Being Pumped This Week
Tranzbyte (OTCPINK: ERBB) – 45 promoters with 225 newsletters have been paid nearly $200,000 so far this month to hype ERBB.
Trulan Resources (OTCPINK: TRLR) – 24 promoters with 213 newsletters have been paid over $100,000 in May to plug TRLR.
As you know, penny stocks are a great place to invest your money.  You just have to do your due diligence to stay away from all the schemes and scams out there these days!
Profitably Yours,
Robert Morris
Category: Pump & Dump Alerts