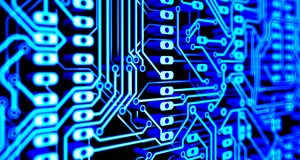 2011 turned out to be a "flat" year for the broad stock market averages.  The NASDAQ opened the year at 2,676 and closed down 2.3% at 2,613.  Not really a big move at all.
The Dow Jones Industrial Average was up a bit in 2011.  The index opened at 11,577 and closed up 5.5% at 12,217.  While a gain of that size is nice, it's not the kind of performance that grabs your attention.
In a strange final day of trading, the S&P 500 average amazingly closed flat on the year.  The blue chip index opened at 1,257.62 and closed just 2 cents lower at 1,257.60. 
Clearly, large cap stocks weren't the place to make money last year.  Where could you have made real money in 2011?
With their low cost of entry, penny stocks offer the average investor a chance to grab big returns.  And it doesn't take much of a move to generate huge percentage gains.  Looking ahead, one of the best sectors for penny stocks in 2012 is the tech sector. 
You see, there are dozens of new and innovative tech companies coming to the market each and every year.  And many of these companies remain penny stocks until they have a "breakthrough" year. 
In fact, my colleague Gordon Lewis recently handed subscribers to his Penny Stock All Stars service a 40% winner in a penny-sized chip equipment maker.  Best of all, it only took about four months to generate these gains.
There's no doubt, 2012 will be a big year for the tech sector.  With so many new innovations coming on line, it'll be hard to keep tech stocks at bay.  Whether it's the latest gadget, advances in cloud computing, or improvements in business efficiency… tech is where it's at. 
If you don't want to miss out on your opportunity for big returns in tech penny stocks, consider subscribing to Penny Stock All Stars.  In 2012, Gordon is sure to pick more than one great penny stock from the tech sector.
Until next time,
Brian Walker
Category: Investing in Penny Stocks, Technology Stocks