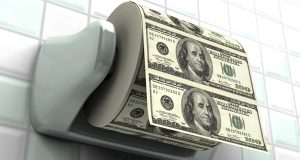 This week we're exposing these three popular Pump & Dumps:  Digagogo Ventures (DOGO), New America Energy (NECA), and Save The World Air (ZERO).
That said, welcome to Pump and Dump Friday, where every week we highlight a few of the "bogus" promotions that are going on in penny stocks.
If you don't know how these scams work, be sure to check out this free report that exposes the whole thing.
Without further ado, here are this week's disasters waiting to happen:
Digagogo Ventures (DOGO)
After writing up dozens of pump and dump scams, I have to say it never gets old.  In fact, it feels great to expose the dirt on these hyped up penny stocks.  And DOGO is just another in an endless stream of paid penny stock promotions.
Penny Stock Finder was paid $17,500 to sing the praises of Digagogo.  I was actually curious what business Digagogo was into, but after hours of research… I still have just a vague idea of what they do.
You see, DOGO is setting up private social networks so that neighborhoods and communities can connect and do business.  To learn more, I popped onto their website.  Sadly, I came away with very little idea of how they plan to make money.
I didn't stop there.  I went as far as checking out their Facebook page and found a YouTube video explaining their business.  And after all that digging around, here's what I came away with…
DOGO is set up to host small group social networking.  This allows homeowners to set up personal sites and offer stuff up for sale, promote garage sales, etc…  In addition, they have businesses sign up to advertise their products so they can market to everyone in the neighborhood.
Call me crazy… but if you were friends on Facebook with your neighbors, or even built group pages for your church, HOA, or neighborhood, you could just as easily announce your garage sales or share what local businesses are running great deals.  So why again do we need DOGO?
I think that's what investors are wondering too…
So far in 2011, the company brought in just $50,000 in revenue.  And yet somehow, they've racked up a $7.9 million loss at the same time!  Boy, programmers must really be expensive these days.
Except, the money wasn't spent on programmers… but on the President of Digagogo instead!  That's right, the President was issued 30,000,000 shares for management fees.  The shares were valued at $7.5 million at the time of issuance.
How does one have the audacity to collect such a huge payday when all you've done is bring in $50,000?  These guys make US politicians look like saints!
Apparently the list of those sharing the wealth goes on and on.
A director of the company received 200,000 shares for management fees.  And 1,000,000 shares were issued to a "non-related party" to acquire intellectual property valued at a mere $120,000.  That represents $0.12 per share.
Seeing as the shares now trade at $0.065, I'd have asked for the payment in cash…
The problem is DOGO only has $1,133 in cash! 
My opinion… DOGO is a real dog of a company.  And someone's resorted to hyping the stock to try to pump up the price.  Who knows… could it be "that guy" who sold his "IP" for shares instead of cash?
New America Energy (NECA)
Here we are again… talking about another "exploration stage" mining company that's being heralded by the pump and dumpers.  And this time, the pumper doing the dirty work is none other than one of our regulars here, OTC Picks.  They collected a cool $40,000 from a "third party", Investment ABC's, to do the deed.
But pay attention folks, I'll tell you why NECA is hardly worth buying even a single share…
First off, the company has never had any revenue.  Remember, they're an "exploration stage" mining company.  And their business model operates around owning two separate mineral property rights.
Well, in my opinion, it's more like "leasing" the mineral property rights.
You see, NECA entered agreements on the Uravan and Clayton Valley regions.  They don't really own anything outright.  But they do have option and exploration agreements in place on both properties.  The problem is, on the Clayton Valley Agreement, they'll need to pay $100,000 for the next three straight years to a company called GeoXplor so they can maintain their agreement.
Oh, and they'll owe over 2.5 million shares of stock… and a 3% smelter royalty if they actually do find anything worthwhile.
The problem is they have all of $534 in cash on hand!  So how do they expect to pay anything?
Thankfully, on page F-6 of the Q-10 they released this week, NECA disclosed the facts…
"We have negative working capital, and have incurred losses since inception, and have not yet generated revenues.  As we are in the exploration stage with our recently acquired mineral claims we do not expect to generate revenues for some period of time, if ever.  These factors create substantial doubt about the Company's ability to continue as a going concern."
If this company can't raise more capital, sell more shares, or find something valuable to unearth ASAP… they're toast.
Save The World Air (ZERO)
Even if this company wasn't being hyped by the pump and dumpers… I'd still consider writing them up.  That stock symbol is horrible guys!  It inspires awesome confidence that I'll retire rich some day from your company… not!
ZERO (I can't type that without laughing to myself) is the developer of energy efficiency technology that will serve the oil pipeline industry.  And right now, that's all they are… a developer.
In a December 13th letter to shareholders, ZERO highlighted they're "Continuing productive discussions with potential future customers in the oil pipeline industry and gathering their input for the second generation commercial prototype."
Hey, that's great you're having "productive discussions".  I have "productive discussions" with my wife all the time… but never seem to get my way. And since the notorious pumper Stock Guru was paid $7,500 to promote ZERO shares… I was driven to look at how well they're doing.
Here's what I found…
Since ZERO is still making prototypes, they have $0 revenue in 2011.  Better still, their costs must be pretty high as they racked up $7.5 million in losses so far this year… and the year isn't over.
Here's where it gets dicey…
The company has less than $4,600 in cash on hand.  That's not a whole heck of a lot when you're running through millions each year.
Now here's my favorite part.  The company has been around since February 1998… and they've generated lifetime sales of just $69,000.  Wait for it now…
Over the same time period, ZERO has an accumulated deficit of over $65.9 million to date!  That's as they say… is less than zero!
Even their own accountants are concerned the company can remain afloat.
Let's just say good luck to Save The World Air and save your hard earned cash for a better investment!
A final word (and warning).
So that takes care of a few of this week's inglorious "pump and dumps".
Remember, there's a lot more of this going on each week than we highlight here.
As you know, penny stocks are a great place to invest your money.  You just have to do your due diligence to stay away from all the scams out there these days!
Until next time,
Brian Walker
Category: Pump & Dump Alerts