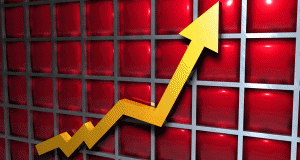 If you're like me, you're pretty sick of watching European headlines dictate the direction of our markets.   It's a never ending battle of good versus evil (well, not necessarily real evil).
Take yesterday for example…
Over the weekend, the IMF announced Spanish banks would be getting a €100 billion ($125 billion) bailout.  The rescue funds were aimed at financial institutions nearing failure as a result of the property market collapse in Spain.   On the news, futures skyrocketed and the markets opened higher.
But the rally was short-lived.
Apparently, traders decided to turn their attention back to the larger fiscal picture in Spain regarding sovereign debt.  That brought up renewed questions about Italian debt and then concerns over Greek elections this coming weekend.
With all this headline risk in the market, the major averages are about breakeven this year.  We've in essence watched double-digit gains vanish in mere weeks.
2012 started out as one of the best years in quite some time, but has since turned into another massively volatile year.
But in the world of penny stocks, some investors are doing quite well.  In fact, if you've invested in certain penny stocks, you're ahead of the market this year.
Why so?
As we routinely repeat here at Penny Stock Research… penny stocks often move to the beat of their own drum.  Company-specific news frequently trumps headlines in small cap stocks.
Listed below are three examples of penny stocks that are outpacing the markets right now as a result of top notch performance.   See for yourself…
Trans World Entertainment (TWMC)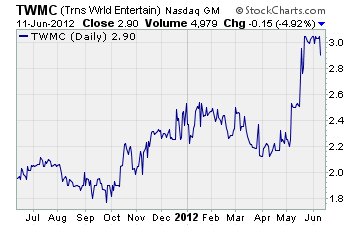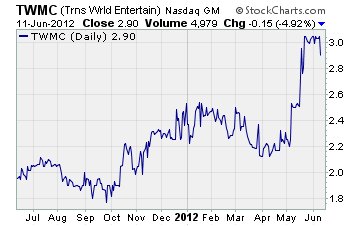 TWMC is up over 46% this year after reporting a $5.3 million increase in net income for their latest quarter.  A great example of fundamentals ignoring what's happening in Greece!
Nautilus (NLS)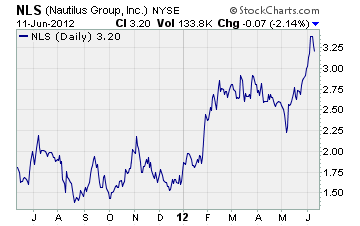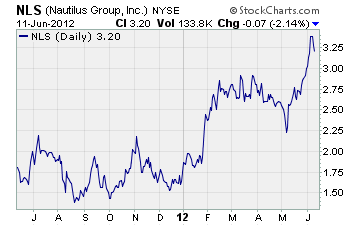 Nautilus is up over 82% this year so far!  Apparently this sports and fitness giant improved revenue and gross margin in the first quarter of 2012.  Investors in this company clearly couldn't be bothered with the EU rumor mill.
Streamline Health Solutions (STRM)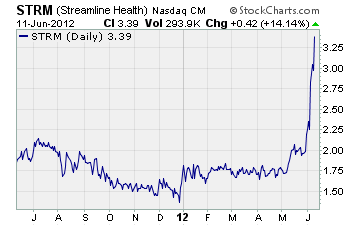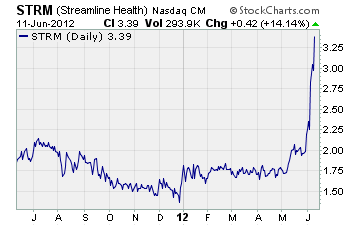 While the markets were selling off in June, STRM started breaking out to new 52-week highs and almost doubled in value in the process!  Clearly investors are excited to see the company flip from a loss to a $500,000 profit in Q1 this year.
ECB, Italy, Spain… who cares!
Now, these are just three examples of stocks that are avoiding the ebb and flow of news coming out of Europe.   It's the profitability of the companies driving the stock prices higher… exactly the way it should be.
If you're burned out from headline driven investing, now's a great time to research the vast ocean of penny stocks available to give you market beating results.
Editor's Note:  If you're not sure where to start your research, we'll show you the key to picking high potential penny stocks.  Our penny stock pro, Gordon Lewis, gives you his secret to picking profitable penny stocks…  And his next recommendation is due out this Thursday!
Until next time,
Brian Walker
Category: Penny Stocks On The Move