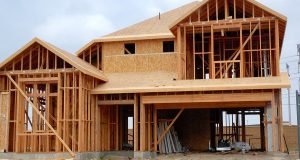 There's two important parts to investing in penny stocks.  The first one everyone knows… that's figuring out what to buy.  The other part, very few people focus on.  But I actually think it's more important… knowing what NOT to buy.
Think of it this way… knowing what not to buy can be very powerful.  It prevents you from wasting time researching poor stocks.  And it shows you what areas of the market to stay away from.  It saves you both time and money.
Remember, avoiding a loss can be just as good as making a profit.
Right now, I see one popular area you should stay far away from…
But first, a little background.  If you've been watching the news lately, you've no doubt seen reference to the Federal Reserve's "Operation Twist".
It's a program designed to stimulate the economy by lowering long term interest rates.
Many investors are sitting up and taking notice.  If long term interest rates are being pushed even lower… the thinking goes… it might stimulate the housing market and home buying.  As a result, you may be looking at homebuilding stocks right now.
But that's a mistake… you should stay away.  Here's why…
First, look at the chart.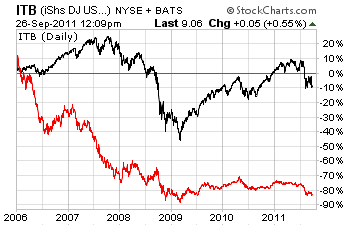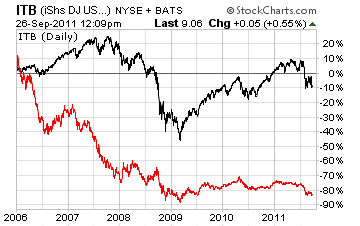 The homebuilders ETF is in red… the S&P 500 is in black.  As you can see, the homebuilders have been destroyed.  They're still down over 80% since early 2006.  On the other hand, the rest of the market has recovered quite dramatically.
I'm not about to start scooping up small homebuilder penny stocks until I see the entire industry start to rally… and that hasn't happened yet.  You don't want to start buying these stocks until they start to turn higher… it could be years before we see that happen.
The second reason is the recent Federal Reserve action is useless.  I know you're asking what about Operation Twist?  What about lower interest rates?
I say it's a big bear trap.
Lower interest rates aren't going to help the housing industry.  Right now we're sitting at record low interest rates on mortgages already.  Lower rates won't help.
The problem is interest rates could be at ZERO, but if banks won't lend money it doesn't do anyone any good.
See, most people overlook the fact that the housing market is tied to the health of the banks.  Specifically, the more willing banks are to loan money, the more people can qualify to buy a house.  Unfortunately, right now banks are struggling, and as a result, they've tightened lending standards.
Not many people qualify for home loans anymore.
Banks are scared of lending money.  You have to have prime credit, a great job, and tons of cash in the bank to get a loan.  As you can imagine, not many people can get over all those hurdles.
That's why the housing market will stay stagnant for quite a while.
I don't care about interest rates… I care about bank lending standards.  Once the banks start loosening the purse strings and start lending again, that's when we'll see a rebound in housing.  Until then, stay away.  Homebuilding penny stocks are just a big bear trap right now.
Until next time,
Brian Walker
Category: Penny Stock Alerts, Penny Stock Tips