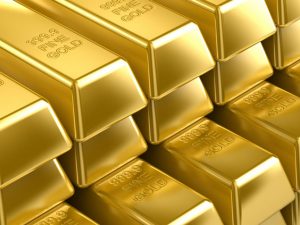 Gold is an amazing metal.  Despite the fact that it has very little use in industry, men have been fighting over it for centuries.  Many people are amazed to learn gold isn't as useful as silver, steel, or aluminum.
However, gold plays an important role in our lives.  It's been a store of value and used as currency for centuries.
Today, you can walk down to a local coin shop and buy yourself a shiny gold bar or coin.
But you'd be surprised just how little of the precious metal you'd get for your money.  Just look at this chart…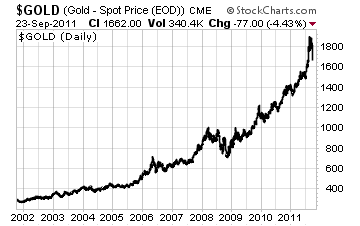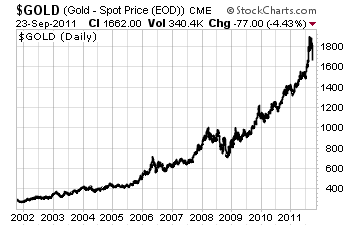 As you can see, gold prices have been on a massive run for the last 10 years.  They've climbed from $280 an ounce in January 2002 to over $1,900.  That's a return of more than 578%!
Now if you've been watching gold prices, you've seen them tumble over the last few trading sessions.  As a matter of fact, many fear gold has fallen off a cliff.
As I write this, gold can be had for $1,660 an ounce… more than $240 off the peak price.  And that has many investors scared.  Might it go lower?
Sure.  But I'd be smiling if that happened!
See, long term, gold prices really have only one way to go… and that's up.  Why?
Because government officials are screwing around with the value of our paper currency.  In the United States, we have the Federal Reserve printing money like there's no tomorrow… flooding banks with money… and suppressing interest rates.
Europe, Japan, and a whole lot of other central banks around the world are doing the same thing.
They're trying to "Save" their economies.  All they're really doing is creating inflation.
You see inflation every day.  Food costs more, gas costs more, services cost more… that's inflation.  The dollar in your pocket is buying less and less, and as a result, people are seeking out ways to protect their capital.
One of the best hedges against rising inflation is GOLD… and it has been for centuries.
That's why I believe this recent downturn in gold prices is just a blip… it's a buying opportunity.  Now many people already own gold or are looking for other ways to invest in gold.  One that I like is small cap mining companies.
That's right, gold miners!
When the price of gold goes up, the value of their mine – even ones that are not yet producing gold – go up!  And once production does start… watch out… the value of a company can really skyrocket.  That's why I like mining penny stocks as a way to play the coming surge in gold!
Until next time,
Brian Walker
Category: Gold Stocks, Penny Stocks to Buy