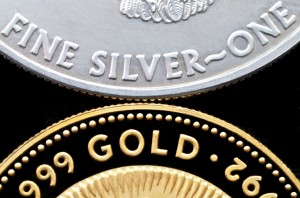 What a week for precious metals!
As wild as the stock market has been lately, precious metals have been even crazier.  The price of both gold and silver nosedived last week.  And it looked like the long-lived bull market in precious metals may have finally come to an end.
But just as it seemed there were no metal buyers left, we saw a huge spike this week in both gold and silver.
To put it in perspective, gold plunged from roughly $1,800 an ounce to $1,535… in three days!  Two days later, the yellow metal shot up to a high of $1,679.  Now that's what I call volatility.
Meanwhile, silver, from a starting point of around $40 an ounce, plummeted to a low of nearly $26 before recovering somewhat this week.
Why the extreme volatility? 
First off, the initial plunge was mostly related to fund liquidation.  You see, penny stocks and commodities took a dive on very bearish language from the Fed.  Not to mention, Europe's debt crisis seems to be intensifying by the day.
The unexpected, large drop in stocks and commodities forced many investors to liquidate their profitable gold and silver positions in order to cover their losses in other assets.
What's more, the CME raised margin requirements on both gold and silver, possibly providing additional fuel to the selloff.
But once the selling frenzy ran its course, precious metal buyers once again emerged out of the woodwork.  At the same time, European leaders seemingly agreed that drastic measures are needed to fix their crisis.
With so much going on at the macro level, it's no wonder the metals have been so volatile (not to mention just about every other asset class).
And it should come as no surprise, gold and silver's huge swings are heavily impacting mining penny stocks as well.
For example, the price of Avino Gold & Silver Mines (ASM) has recently been all over the map.
Prior to last week's precious metal collapse, ASM was trading at a comfortable $2.60 a share.  Three days into the selloff, the stock traded for a low of $1.57.  That's a soul crushing 40% drop in just three days.
But like gold and silver, ASM also rebounded.  Not only did the turnaround in metal prices help the company, but they also just announced drilling results at one of their mines.  The findings were very promising, particularly concerning the potential silver content.
In just one day, the stock shot up 25%.  Do you think ASM investors are ready for a slow day?
I wouldn't doubt that ASM investors are seeing a few more gray hairs this week.  And it's not over yet.  Volatility could remain high in the coming days – so fasten your seatbelts!
Yours in profit,
Gordon Lewis
Category: Gold Stocks, Penny Stocks On The Move, Silver Stocks