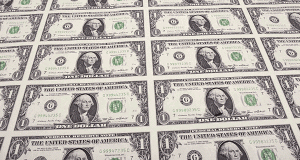 Well, so much for starting June off on a fresh note…
It looks like the markets are ready to collapse at any moment.  The technicians are lining up levels on the S&P that "must hold" for the market to have a chance of survival.
Instead of watching technical indicators in stocks, there's an indicator that's proven pretty consistent in telling us where the equity market may be heading next.
Keep your eye on the US Dollar…
Yes sir, the US Dollar.  It's been the only true "safe haven" in the recent selloff.   In the process of serving as king of safe haven plays, the greenback rallied to a new 52-week high of $83.54 on the US Dollar Index (DXY).  In fact, the dollar hasn't been at these levels since late 2010!
So why's the dollar more important than technical levels on the S&P?
Simply put, nothing's been better correlated to fear in the markets than price action in the greenback.  As fear in the EuroZone erupted once again, the US Dollar rallied.  As signs emerged from China that their economy might be slowing, the greenback pressed higher yet again.
Take a look at this chart to see the relationship between the S&P and the US Dollar…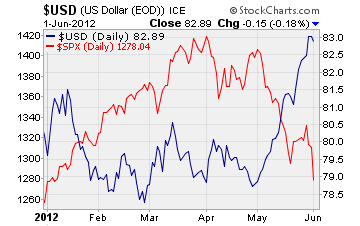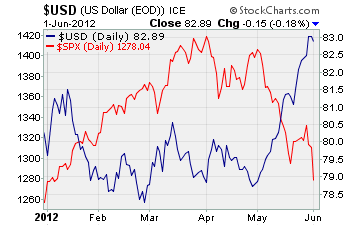 As you can see, the dollar and S&P 500 are sharing a very strong inverse correlation since the beginning of 2012.   That simply means as one rises, the other falls.
If you follow the markets closely, you might ask, "Why not just look at the VIX?"
And that's a great question.  Often times, traders look to the S&P VIX to gauge investor fear.  But the VIX has been slow to respond, leaving many market pros scratching their heads.
In fact, the VIX has been actually quite tame relative to the stock market.  See for yourself…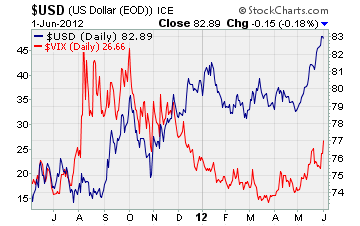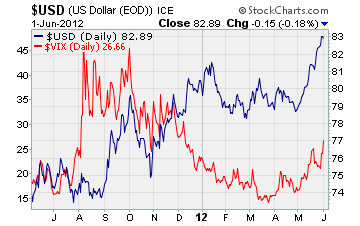 Looking at the chart, you can see the huge spike in the VIX during the selloff in August of last year.  It climbed above 45 for a while!  But this year, it's been slow to respond to the recent selloff.
The dollar is clearly the better fear indicator in 2012. 
Here's the thing… both large caps and penny stocks have been trading in opposition with the US Dollar this year.  When the US Dollar pulls back a bit, we may have a signal that it's time to add some quality penny stocks to your portfolio.
So keep a close eye on the greenback… it'll tell you when it's time to put more money to work.
Editor's Note:  When the market finally bounces, you'll want the key to picking high potential penny stocks.  Discover penny stock pro Gordon Lewis' secret to picking lucrative penny stocks…
Until next time,
Brian Walker
Category: Penny Stock Tips