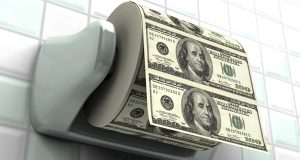 This week we're exposing these three popular Pump & Dumps: Titan Iron Ore (TFER), Sunpeaks Ventures (SNPK), and Plandai Biotechnology (PLPL).
That said, welcome to Pump and Dump Friday, where every week we highlight a few of the "bogus" promotions that are going on in penny stocks.
If you don't know how these schemes work, be sure to check out this free report that exposes the whole thing.
Now without further ado, here are this week's disasters waiting to happen:
Titan Iron Ore (TFER)
TFER's back… what a joke.
We exposed this iron exploration company late last year.  And it looks like the pumpers are going back to work on Titan shares once again, and for good reason.
Before we get into that, here's a recap of last year's exposé…
$0 Revenue
$$429,000 accumulated deficit since inception
37 for 1 stock split, pushing the share count up to 192 million outstanding shares
Directors cashed in and collected management fees of $10,000/$94,500 each
So what's Titan been up to since we last checked in?
More of the same shameless compensation for the insiders… that's what!  For starters, a number of insiders received anywhere from 400,000 to 1 million options at the end of last year.
These options will vest 25% of the total compensation in each of the next three quarters.  Basically, they'll be 100% vested over the next 18 months.  That means, by June 21, 2013 each of these options can be turned into shares at a price (exercise price) of just $0.84.  With shares currently trading north of $1.44, it translates into an instant 75% gain!  Here's a list of how the booty was doled out…
President, Andrew Brodkey – 1,000,000 options
CFO, Frank Garcia – 400,000 options
Director, Ronald Richman – 750,000 options
Corporate Secretary, Jodi Henderson – 400,000 options
Here's the crazy part, all of the filings show roughly 2.5 million options were handed out last year.  The company authorized a total of 4.1 million options to "directors, employees, and contractors."  So there's more left to pass around!
Normally, I'd say options compensation is no big deal, but Titan has yet to accomplish anything to justify any rewards.  They're still not making any money… just losing it!
Another tidbit out there in amongst TFER's SEC filings is a sale of 1.3 million "units" in exchange for $1,000,500.  That's how they're staying afloat, by selling one share and half a share warrant for just $0.75.
Hey, can I get that deal guys?   That's an instant 100% plus gain!
I can't blame the "two non-US investors".  After all, the only thing TFER is doing right now is issuing press releases about the results of their "winter 2011" drill program.
Titan is still just test drilling… they're not even mining yet!  I'd want an instant 100% gain if I were to hand over $1,000,500 too!
Now you can see why shares are being pumped again.  Between the shares sold in "units" and the options handed out to insiders… there's someone set to pump this "P.O.S" for quite a while.
Basically, this could be the beginning of an even bigger pump and dump for TFER…
Even if shares don't push much higher, one thing's for sure… the pumpers are going to keep at it to make sure shares stay above $1.00.  If that happens, everyone involved can cash in for a profit!
One last thought…
Titan last issued earnings on November 15th.  They were due to release earnings back in late February some time.  Well, April is just around the corner… and I'll bet you those financials look pretty ugly when we finally do see them.
Otherwise, they would have been out already, with the pumpers touting how great they were.
Seriously, what's the hold up? That's a $0 on the top line fellas. 
Sunpeaks Ventures (SNPK)
We've got another winner on our hands here with Sunpeaks Ventures, that's for sure.
Outside of being pumped right now, the company is a joke.  No really, SNPK was a one man show, or "sole officer" as they say.  SNPK started in 2009 and went into the oil and gas exploration game.
It turns out… they fell on their face and ended up as a shell company due to "minimal operations".
After directly selling shares through a prospectus last year, the company joined forces with Healthcare Distribution Specialist, LLC (HDS).  Apparently, the multi-vitamin game looked more interesting.
HDS owner, Mackie Barch, collected 200 million restricted shares of common stock, and 3 million class A shares.
Of course, on December 7th of last year, SNPKD was re-registered as SNPK.  Even better, the company did a share split of 1 for 45, making 8 million shares turn into over 370 million.
And why do you ask?  Well, you need shares to float so the pumping game can get started.  I mean, how else can anyone make money?
Just so you know, the total shares outstanding right now sit at 420,500,750, with a float of 145,500,750.
But wait, we need to remember one last detail.  What about this filing I see here on March 6th showing SNPK secured $200,000 in financing for operations?  (We'll get to that in a second.)
Enter the pumpers on March 10th…
And it's not just any pumpers.  They brought in the big guns for this pump and dump – the notorious Free Penny Alerts Group.  Remember these guys?
They most recently pumped NSRS and then dropped off the face of the earth on February 23rd…
Well, they needed time to craft their latest campaign for SNPK!
In fact, the entire group is sending out the exact same email over and over again.  Here are the culprits –
Killer Penny Stocks
Gladiator Stocks
Free Penny Alerts
Free Penny Investment Reports
Penny Stock Alley
Explicit Penny Stocks
Premier Penny Stocks
Awesome Penny Stocks
Penny Pic
Secret Penny Stocks
Penny Stock Gains
And there are over a dozen stock touting websites, including these 11 pumping SNPK.  All with full force right now!  And guess how much was spent so far?
$95,000.  Wait, didn't SNPK just get $200,000 in financing for "operations"?  Oh, I'm not saying they paid to pump their own stock… not at all.  But the timing is quite ironic, no?
I only bring it up as we're dealing with a well-known, major-weight pumping operation here.  They ran up, and then pulled the rug out from under NSRS…
Something smells rotten, that's for sure.
Now, both the pumpers and the company will point out that SNPK secured an agreement with Walgreens to distribute their Clotamin Vitamins in various Florida stores.  They'll be in 50 Miami area locations and 34 Sarasota spots.
Wait, do they have inventory?  Hmmm…
More great questions.
In the coming weeks, SNPK shares might just run pretty far.  In fact, they've already started to.  Shares were up to $0.66 just yesterday, a 12.6% gain on the day.  But let me warn you… we've seen this happen before. 
Bottom line…
Playing this game is the pure definition of insanity.  You never know when the rug will be pulled out from under you.  You never know when those "third party shareholders" are done bilking you for your cash.
Even though this is just getting started… stay far, far away.
It's my favorite line, but I'm using it anyway… Don't say I didn't warn you!
Plandai Biotechnology (PLPL)
Before wrapping up, I wanted to warn you about yet another attempted revival of a pump and dump… Plandai Biotech.
Back in January, we publicized a $20,000 promotion being run by Penny Stock Chief on PLPL shares.
Currently the company has no revenue, $2,683 in assets, and $177,947 in current liabilities.
Basically, shares should be worthless…
If you recall, Plandai Biotechnology plans to use extracts from live plant material in nutritional products. Before becoming PLPL, the company was operated as Diamond Ranch Foods.  A stock ticker symbol change was filed with the SEC on January 5, 2012.
Plandai executed a share exchange with an Irish company, Global Energy Solutions Corporation Limited, to help them go from meat processing to bio-organic blah blah blah.
Whatever, who cares anyway?
This time, Penny Stock Prophet and Buzz Stocks are pumping PLPL.  They collectively earned $30,000 over the past few days for their efforts.
While shares of PLPL are trading well below a 52-week high, they have spiked off the bottom due to the recent pump.  Take a look…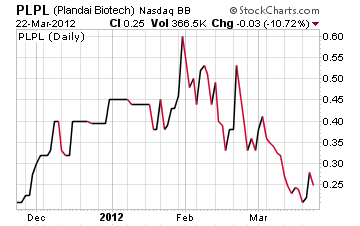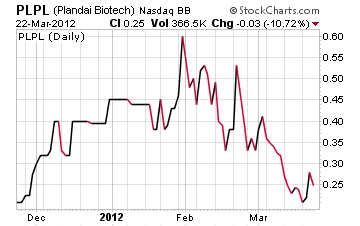 While not a big move, you can bet if the pumping continues… shares may rally yet again.
However, don't get your hopes up and buy this stock… there seems to be too little cash being spent on this promotion.  As a result, the short spike may run out of steam. 
You don't want to be caught holding the bag, do you?
A final word (and warning).
So that takes care of a few of this week's inglorious "pump and dumps".
Remember, there's a lot more of this going on each week than we highlight here.
As you know, penny stocks are a great place to invest your money.  You just have to do your due diligence to stay away from all the scams out there these days!
Until next time,
Brian Walker
Category: Pump & Dump Alerts