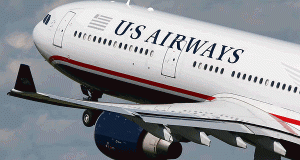 There was some interesting news last week from the airline industry.  Since many investors shy away from volatile airline stocks, you may not have seen this.
Apparently, US Airways (LCC) is discussing a possible takeover plan with American Airlines.  Keep in mind, American recently filed for Chapter 11 bankruptcy.
What a crazy change of fortunes that is…  I mean, not that long ago, American Airlines was one of the dominant players in the industry.  And, it was US Airways struggling to survive.
But times have changed.
Look, it's not like US Air is a behemoth or anything.  In fact, at $7.50 a share and a market cap of around $1.2 billion, LCC is a small cap company.  A year ago, who would have thought that a small cap company would be purchasing the once great American Airlines?
So what about US Air?  Is it worth buying?
Personally, I'm not a fan.
On one hand, LCC is trading at a very cheap 3.2x projected earnings, so there isn't a lot of downside.  However, the airline industry is facing some stiff headwinds in the coming months.
Most importantly, oil prices are high.  Of course, that means jet fuel is going to be expensive as well.  And, that's a major drag on any airline's bottom line.
What's more, many consumers still aren't travelling by air.  Both business and personal travel is down.  It'll take another leg up in the economy before air travel returns to any form of prominence.
Finally, if US Air acquires or merges with American Airlines, there's going to be some serious integration headaches in the near term.
So does that mean you should completely avoid airline stocks?
Not necessarily.  It's true that airlines can be challenging investments to hold for any length of time.
However, there are several regional airline penny stocks that are worth looking at.  And, I believe they make much better investments than their larger peers.
Don't get me wrong, oil prices and low demand impact regional airlines as well.  But regional airlines tend to have more streamlined cost structures.
Even better, several regional airlines stocks are trading at very affordable prices.  Basically, the entire industry is trading at a very low multiple in terms of projected earnings.
Bottom line… while LCC may be appealing because of the low valuation and takeover of American Airlines, there are better choices for your portfolio.  If you want to get exposure to the airline industry, take a look at regional airline penny stocks instead.
Yours in profit,
Gordon Lewis
Category: Penny Stock Tips, Penny Stocks