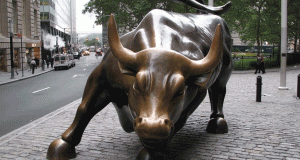 Last week may have been a slow news week, but it didn't keep stocks from continuing their recent hot streak.  In fact, the S&P 500 ran its winning streak to six straight sessions, and finished off its fifth weekly advance in a row.
So far, the highly watched index has managed to remain above the technically important 1,400 level for the last few days.
More importantly for us, small cap and penny stocks have also embraced the rally and moved sharply higher since August began.
So, can this rally hold or is there another pullback in store in the coming days?
Of course, anything's possible, and there's still a fair amount of event risk out there.  However, the stock market might actually be able to sustain this rally for the time being.
Here's the deal…
For once, it seems the positive news is legitimately outweighing the risks.
You see, there have been several key events that have created a measure of comfort among investors… comfort that's been missing for the last few months.
For one, both the Fed and ECB have pledged to support growth at virtually any cost.  In the case of the ECB, it first and foremost means they need to keep the Euro from falling apart.  For the Fed, the main focus is on reducing unemployment.
In both cases, it means the central banks could step in at any point with asset purchases, backstops, or other forms of stimulus and financial security.  This reassurance has added to investor confidence to the point where money is finally shifting back into stocks.
What's more, domestic economic news has been mostly positive, especially regarding jobs data.  While not robust, job growth has at least been heading the right direction.
That's not to say the risks have vanished.
Europe has stabilized, but it's far from out the woods in terms of the overall crisis.  The EU still has significant debt problems that need to be addressed.  Headline risk from the region still exists.
Moreover, China's rapid growth is showing signs of slowing down.  As a major consumer of goods from all over the world, a significant slowdown in China could negatively impact the entire world's economy.
Fortunately, China's central bank is also ready to act if necessary.  Unlike the Fed and ECB, China can still cut rates significantly in order to stimulate growth.
Here's the bottom line…
There's reason to believe the recent stock market rally will hold.  On one hand, economic news has been improving.  On the other hand, if growth slows at all, central bank stimulus is a distinct possibility.  For the moment, it's a win-win situation for investors – and that's the best kind of scenario.
Yours in profit,
Gordon Lewis
Category: Investing in Penny Stocks