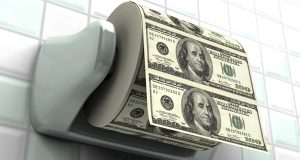 This week we're exposing these three popular Pump & Dumps:  Neologic Animation (NANI), Dewmar International BMC (DEWM), and Syncronys International (SNTL).
That said, welcome to Pump and Dump Friday, where every week we identify a few of the potentially "bogus" promotions going on in penny stocks today.
If you don't know how these schemes work, be sure to check out this free report that exposes the whole thing.
Without further ado, here are today's "disasters waiting to happen":
Neologic Animation (NANI)
"NANI On Bounce Alert. Don't Miss The Boat"
That's the best the pumpers can do on this winning trade… hope for a bounce.  Premier Stocks is the latest pumper to cash in for their "hard" work… $15,000 to be exact.  Earlier in the week it was Penny Chief picking up $40,000.
But they're not alone on this one…
24-7Stock Alert, Epic Stock Picks were also paid promoters of NANI, with The Stock Psycho cashing in for a massive $100,000.
So how is the stock doing with all this pumping?
I think the chart tells the tale quite well…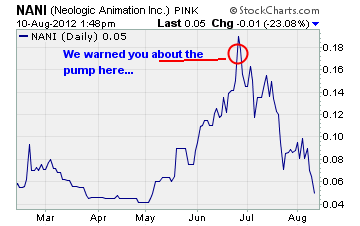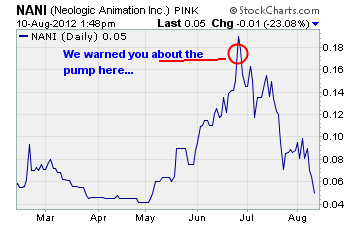 You can see where we warned you about the pump and dump scheme in late June.  And within days of it, the downdraft started for NANI shares.  Needless to say, the stock's lost over 70% of its peak value from the June highs.
Like most pumped stocks, Neologic exhibited the classic huge "inverse V" pattern.  That left a lot of unsuspecting traders holding the bag and losing their shirt.
If you're still holding out hope for a huge reversal on NANI shares, I'd say you'll be waiting a very, very long time.  Fundamentally, the company isn't what I call "investment grade."
For starters, they're late with their Annual report.  They filed an extension with the SEC "because the company's auditor have not completed their review of the Registrant's audited financial statements."
This may be an exception to the rule, but it's not a good sign when auditors can't finish a review on time.
Relying on their previous quarterly statement, the $298 in cash just may have run out.  Considering the company ran a $15,549 loss that quarter – it wouldn't be unreasonable to think so.
With no revenue, it's hard to keep the machine running… and that's where NANI is at the moment.
Between the pumping and the lack of financial reporting going on here, I sense trouble ahead for Neologic.  You'd be wise to get the $0.05 the market is offering now for these shares… I think they're on their way to $0.00!
Dewmar International BMC (DEWM)
I must be out of touch, because I've never heard of a "relaxation" beverage.  When I think of a relaxation beverage, a stiff martini comes to mind!
Anyway, I guess there is a market for these "relaxation" beverages according to the pumper.  Buzz Stocks is telling everyone that DEWM's product, Lean Slow Motion Potion, is the national #3 seller in this category out of a "purported 50" such products.
Really, 50?  I guess if I was paid $25,000 to tout a stock, I'd say everything positive I could too.
Now, DEWM does have a product and they do have revenue (shocking, I know).  The problem comes in when we look closer at their financials…
For starters, revenues are shrinking, not growing.  In Q1 this year, revenue fell to $193,216 from $279,119 for the same quarter last year.  But according to the pumper… revenue is growing.
How?
They're quoting annual revenue growth from 2010 to 2011.  But we're already in 2012… August of 2012 to be exact.  Nobody cares about what happened in 2010!
Then there is the loss issue… ah yes.  The net loss is one thing that's growing at Dewmar – up to $94,466 in Q1 of 2012 from only $19,008 in the same quarter of 2011.
Now that's definitely not the progress we like to see in an investment!
If the financials aren't bad enough, then the lawsuits should keep your "buy" finger away from this stock.  Yes, I said lawsuits… not lawsuit.  The company has four lawsuits they're currently defending against.
Who knows what will become of DEWM and their relaxation potions, but I'm not going to stick around to find out – and suggest you don't either.
Syncronys International (SNTL)
When I first looked at the name, it thought this company was into timing chips, watches, or something similar.  Maybe they're no Rolex, but a time keeping company for sure.  Who knows, maybe they might have something to do with the London Olympics?
Boy, I should be writing for the pumpers with this kind of drivel…
No, sadly Syncronys is just another entry in the "green" technology and strategy business.  In their press releases, this is how they describe themselves…
"Syncronys offers a comprehensive product and technology strategy to provide a wide range of green energy applications, Micro Utility, Micro Grid and Smart Grid initiatives on any domestic and international level."
Micro grid, smart grid… who cares?  I want to know if they make money or not!
And of course, I was disappointed.  I went to research SNTL and found their stock isn't registered with the SEC! 
Instead, I dug up their most recent financial report to find the company has $151 of cash on hand as of June 30th. 
Say what?
$151?  And they're a startup with no revenue!  Furthermore, even though they're not selling anything yet, SNTL found a way to lose over $100,000 in the second quarter this year.
Aren't you excited to run out and buy shares now?
It's not all bad news though.  The company does have a letter of intent signed to acquire Zillacomm.  You know, Zillacomm… that company "With expected annual revenues exceeding $15 Million." 
Oh yeah, that's right out of SNTL's latest press release. I love such flowery phrases as "expected annual revenue".  Expected is the key word folks – not proven or recurring or anything like that.
I think you'd be smart to take a pass on these shares.  London Olympics?  What was I thinking!
A final word (and warning).
These are just a few of the potential "pump and dumps" we've seen lately.
Remember, there's a lot more of this going on than we can highlight here.
As you know, penny stocks are a great place to invest your money.  You just have to do your due diligence to stay away from all the schemes and scams out there these days!
***Editor's Note***  Our own Gordon Lewis just released the name of a tiny penny stock that generates fuel from biomass and garbage.  It sounds far-fetched, but the company is legitimate.  Click here for details on this potential blockbuster stock.
Until next time,
Brian Walker
Category: Pump & Dump Alerts