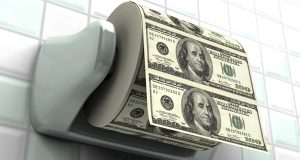 This week we're exposing this pair of popular Pump & Dumps:  Sky Power Solutions (SPOW) and Abby (ABBY).
That said, welcome to Pump and Dump Friday, where every week we identify a few of the potentially "bogus" promotions going on in penny stocks today.
If you don't know how these schemes work, be sure to check out this free report that exposes the whole thing.
Without further ado, here are today's "disasters waiting to happen":
Sky Power Solutions (SPOW)
I don't know if I'd call this persistence, or just plain stupidity…
For those of you who are new here, I've exposed scams being run on SPOW twice in the past.  The first time was all the way back on September 30th, 2011.  The more recent attempt by the pumpers came back in July of this year.
In July, we caught Stock Brain running the pump on this penny stock.  And back then, they were paid $15K for their efforts.
Things must be getting desperate with the crowd trying to pump SPOW.  This time around, Major Penny Stocks was paid just $4,000.  Talk about a pay cut!
My favorite cheesy line from their email-
"You realize how much we love the sub pennies and SPOW has the potential to strut its tail feather today."
What does that even mean?
What I do know is Sky Power is in no way shape or form anything I'd recommend you invest in.  For starters, back in 2011, SPOW was holding $178 in cash while saddled with a working capital deficit of roughly $6.5 million.
And earlier this year, the company posted an $83,000 loss for the nine months ending in April- and as you might guess, generated $0 revenue.
Looking at their most recent financial statements posted for July 2012, nothing's changed.  SPOW has $0 cash.  Yes, I said ZERO.  What's more, the company has over $1 million in current liabilities.  Of course, SPOW still has no revenue.
Boy that explains why the stock is trading where it is now.  Take a look for yourself…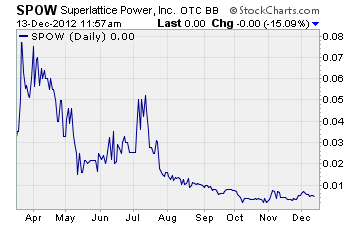 Yes, that's right… SPOW shares are trading at just $0.0046- not even half a cent!
In my opinion, given the financial state of things… this stock isn't even worth that!
Do yourself a favor my friends, ignore the pipe dreams the pumpers are selling you.  You'll be better off if you keep shares of SPOW off your trade screen!
I can only think of nuns when I see this company's name.  Yes, nuns- you know, habits and rulers, and awful death stares…
The only thing holy about this company is the gaps in both cash and income- because ABBY has neither!  That's right, ABBY posted their August 2012 financial report showing $0 in revenue (EVER- since inception in 2000)… and $0 cash on the books.
So how can anyone run a company like that?
Your guess is as good as mine. But if you're listening to Shazam Stocks, you'd think this was the greatest company since sliced bread.
Of course, they were paid $25,000 by Future Money Trend, LLC to pump this penny stock– that might have a little to do with it.  And for their part, I admit, I'm jealous of their creativity (I'm being sarcastic right now- wink, wink). 
Check out the pure awesomeness they've conjured up about ABBY…
"***This looks like a clean bounce trade for our members! It held steady with healthy volume in the 60 cent range, then crashed on light volume as some seller hit every bid he could find, obviously someone desperate in a micro-cap can cause serious distortions temporarily. Yesterday we saw volume pick up and ABBY begin to rise!*** ABBY could push back up to the 40 to 60 cent range based on recent trading activity."
Oh boy, "obviously someone desperate" caused the selling.  So, could it have been Future Money Trend, LLC?  Well, we don't know for sure- but if I was a gambling man, that's where I'd place my bet!
The craziest part about this stock- it hasn't been trading for even six months yet.  Take a look…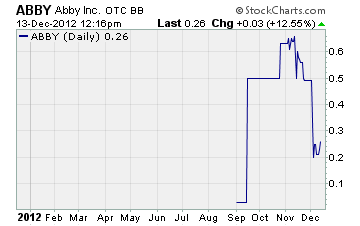 Yep, that's a one year chart.  It provides so much data for technical analysis (sarcasm again). 
The bottom line on ABBY…
Leave it for dead- because more than likely that's where it's heading.
Other Penny Stocks Being Pumped This Week
GLDN – Moving Pennies was paid $5,000
QUAN – OTC Stock Pick was $30,000 cash
A final word (and warning).
These are just a few of the potential "pump and dumps" we've seen lately.
Remember, there's a lot more of this going on than we can highlight here.
As you know, penny stocks are a great place to invest your money.  You just have to do your due diligence to stay away from all the schemes and scams out there these days!
Until next time,
Brian Walker
Category: Pump & Dump Alerts