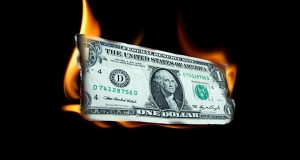 Welcome to today's Pump and Dump Alerts, where we will be exposing these two companies:  Sunpeaks Ventures (SNPK) and Quamtel (QUMI).
Here we identify a couple of the potentially "bogus" promotions going on in penny stocks today.
If you don't know how these schemes work, be sure to check out this free report that exposes the whole thing.
Without further ado, here are today's "disasters waiting to happen":
Sunpeaks Ventures (SNPK)
The obvious news for SNPK shareholders is… the stock tanked hard today, dropping $1.31 or 58%.  The drop came on no news and exceedingly high volume.  In fact, over 80 million shares traded hands of this pump and dump penny stock.  That's 8x the average daily volume!
So why did shares drop?
With no news or earnings, it looks like the pumpers cashed out.
Stay tuned for more coverage on Friday in my weekly Pump and Dump Alert.
As a reminder, both Centro Azteca SA and Bright Tech media, LTD are massively pumping shares of SNPK.  They were paid an estimated $517,000 between the 14 different websites currently touting shares of this profitless company. 
Quamtel (QUMI)
Quamtel provides prepaid telecommunications services with an emphasis on transporting calls that originate from the United States and Canada.  QUMI primarily offers EasyTalk, a prepaid calling service for making international calls.
After failing to file their 2011 annual report on time, shares now trade at $0.22.  QUMI had traded as high as $0.71 this year.
The Stock Exploder was paid $30,000 to hype shares of QUMI.
A final word (and warning).
These are just a few of the potential "pump and dumps" we've seen lately.
Remember, there's a lot more of this going on than we can highlight here.
For more in-depth coverage of potential penny stock pump and dumps, be sure to sign up for our free newsletter, Penny Stock Research.
As you know, penny stocks are a great place to invest your money.  You just have to do your due diligence to stay away from all the schemes and scams out there these days!
Until next time,
Brian Walker
Category: Pump & Dump Alerts, Pump & Dump Daily