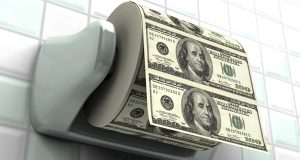 This week we're exposing these three popular Pump & Dumps: Sunpeaks Ventures (SNPK), FrogAds (FROG), and Quamtel (QUMI).
That said, welcome to Pump and Dump Friday, where we identify a few of the potentially "bogus" promotions going on in penny stocks today.
If you don't know how these schemes work, be sure to check out this free report that exposes the whole thing.
Now without further ado, here are this week's "disasters waiting to happen":
Sunpeaks Ventures (SNPK)
I'm going to say it… I told you so.
And I even gave you a deadline, which we'll talk about in a second.
First, SNPK entered its final week of pumping with shares trading at an insane $2.23 on Tuesday. That equates to a ridiculous… hold your breath – Price/Sales ratio of 231,381x!  That means buyers of the stock at these levels are paying over 231,000 times current sales (which are next to nothing).
Of course, if you're following the stock, you know what happened Wednesday – don't you?
Well, last week I made a bold, yet confident, prediction about what was coming.  Read for yourself…

"I'm making a bold call right here, and right now…
SNPK under a $1 by April 23rd!
That's right… six weeks is almost up, and the pumpers must move on to their next target. They're just about ready to cash out… leaving you holding the bag, once again."
Let's just say I hit my sub-$1 price target sooner than predicted.  Take a look for yourself…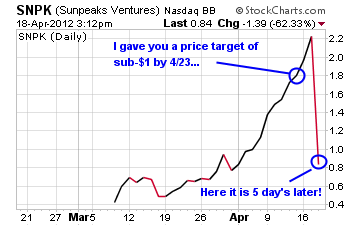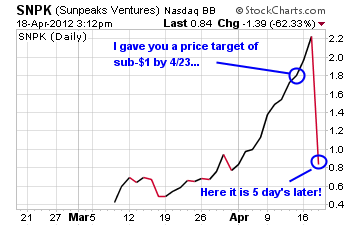 That's more than a 62% loss in just one day!
I know our regular readers were protected from this mess.  After seeing the carnage on Wednesday, I felt compelled to visit the SNPK message board on Yahoo! to see what was being said.
It was really, really sad actually…
"How can a stock be very stable over $2 and then be 65 cents a couple hours later?"
"I lost 120,000 grand"
I had most of my Etrade IRA invested in this and I…"
The guy who lost $120,000 was 65 and retired.  I really wish he was a Penny Stock Research subscriber.  He could have avoided making a huge mistake.
Now this time, I think we may have some recourse against the pumpers, and/or SNPK directly.  I may have uncovered a slip-up on their part…
On April 13th, SNPK published a press release about a new agreement for Clotamin to be promoted by a "major pro sports team" in Arizona.  They're supposedly going to place this brand of vitamin in over 240 Walgreens stores in AZ.
Of course, the team remains unnamed in the announcement.  But according to their press release, "Clotamin will be featured at team home games on signage and other marketing elements throughout the University of Phoenix Stadium in Glendale, Arizona." 
That could mean the Arizona Cardinals have a marketing agreement with SNPK… they're the only pro team playing in Phoenix Stadium.
Even more compelling, I found nothing about this deal on the Cardinals website…
Since this deal is set to launch on June 1st, it might be the reason nothing's out yet.  Or maybe no one notified the Cardinals they were repping a pump and dump stock's product.
Boy, doesn't this buy the pumper's time to work all the angles?
I'll tell you what…
In June, I'm going to a dozen or so of my local Walgreens stores (I live in the Phoenix, AZ area).  And if there's nothing on the shelves that says "Clotamin" with a Cardinals logo on it, I'm thinking a call to the SEC is in order.
Better still, if I see nothing on the shelves, I'll also reach out to the Cardinals organization to find out if there is a deal going.
If not, then we're looking at a clear case of releasing misleading claims about a company's business prospects.
I don't know about anyone else, but my calendar is marked… and I can't wait to go get a bottle of these vitamins!
For those of you still left holding the bag here, do yourself a favor… and re-read all the articles I wrote about NSRS (search the term on our site).  You'll want to sell now, even at a major loss.
We may see a short-lived dead cat bounce… but trust me, don't hold out for it.  Get what you can out of this stock and move on!
FrogAds (FROG)
Our "friends" over at The Stock Psycho are back at it again… and they're doing the best they can to pump FROG shares back up.
You see, we exposed the pump and dump scheme being run on shares of FROG a few times back in January.  At least once each month, someone throws a different pumper a bone to try and stimulate buyer interest in FrogAds shares.
Alas, it's been to no avail.  Take a look at the chart yourself…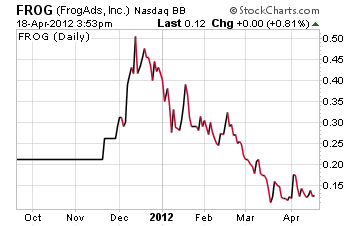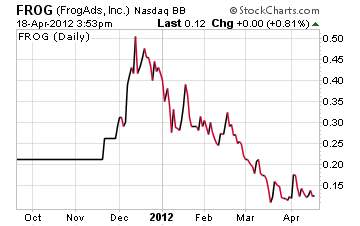 Sure, there has been a hiccup or two as shares have plummeted.  And it's probably due to the weak pumping going on in this stock.  But here's a case of the pumping being pointless…
Now, what the pumpers have failed to point out to you is that FROG had $0 revenue for 2011.  And what lifetime revenue they had, occurred back when they were Imobolis, Inc.
On Wednesday, the company released a financial statement for the end of the year 2011, and it not only shows $0 revenue… but a $47,000 loss. 
Are you ready for some fun?  Here's a quote from, FrogAds CEO…
[CEO] Julian [Spitari] flat out predicts that FrogAds will, as he put it. . ."obliterate Google. . .eBay. . .Yahoo. . .Facebook. . .Craigslist. . .Twitter. . .Groupon. . .and the rest of the Internet want-to-bes!"
Those words came right off a research report that used to reside on FrogAds website.  It's been pulled down now after their site redesign.
Now you can go to the "investor relations" tab at the bottom of their site and find a button labeled "business plan".  Well, when you click on that, here's what it pulls up…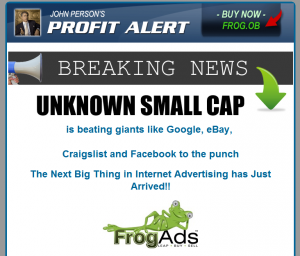 Don't you just love the "BUY NOW" screaming at the top?  I don't recall that being on any business plan I've ever seen!
Clearly, you should save your cash to invest in a real company…
Quamtel (QUMI)
Last on the docket today I'm sharing with you a small, but persistent pump and dump going on in shares of QUMI.  In fact, we warned you about them in January when shares were still trading at a lofty $0.71.
As the pumping continues, the big paycheck right now is going to Stock Exploder for $29,950 (that's an odd number, no?).
However, over the past 90 days, the total spend on pumping of Quamtel shares exceeds $400,000… and the true total is probably even higher.  It's unclear whether the parent companies or the pumper websites themselves were paid.  That's why it's a conservative estimate.
Needless to say, there's been a lot of repeated pumping on QUMI.  And the list of different pumpers used is so long, I can't even fit it in this write up.  But it's some of the regular offenders for sure.
Now you'd think with all the non-stop pumping going on in this thing, the stock would be through the roof.  Well, take a look for yourself…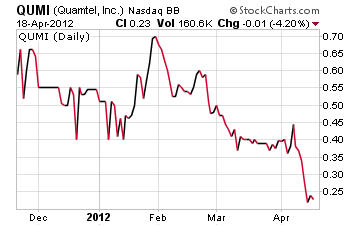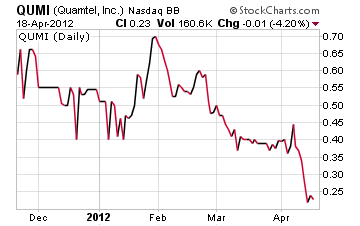 At first glance, it looks like a lot of money wasted.  But a closer look shows that the pumping in March could have stalled the sell off for just a few weeks… giving time for the pumpers to dump more shares.
And here's the kicker on this company.  On March 30th, QUMI filed an extension with the SEC on their 2011 year-end financial reports.   They cited needing more time to complete "certain disclosures and analyses to be included in the Report".
Yeah, sure… we've heard that one before!
Is there a connection between the delayed report and the added pumping?  We'll never really know for sure…
A final word (and warning).
These are just a few of the potential "pump and dumps" we've seen lately.
Remember, there's a lot more of this going on than we can highlight here.
As you know, penny stocks are a great place to invest your money.  You just have to do your due diligence to stay away from all the schemes and scams out there these days!
Until next time,
Brian Walker
Category: Pump & Dump Alerts