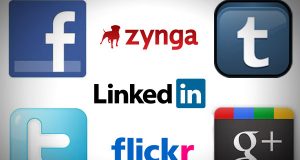 We're just about a month away from the Facebook IPO (if everything goes as planned).  So, you can bet social media companies are going to be in the spotlight more than ever.
Of course, we'll see countless articles about Facebook's super-hyped debut over the next several weeks.  And, I'll be writing about the social media giant's impact on penny stocks.
By now, most everyone realizes Facebook is the most popular social media site on the planet.  You might also have heard that the second most popular site is Twitter.
As I've said before, Twitter –the enormously popular microblogging site – isn't likely to go public anytime soon.  In fact, it might be more of an acquisition target than an IPO candidate.
Here's the thing…
Can  you guess what the third most popular social media site is?
According to Experian Marketing Services, that distinction goes to Pinterest.  As a matter of fact, the up and coming social media mainstay had 18.7 million unique visitors in March alone.
What's more, Pinterest is the fastest site ever to reach 10 million unique visitors.  Talk about astronomical growth.
So what's Pinterest?
In a nutshell, it's a pin board-style, social photo sharing website.  It allows user to create and manage theme-based image collections such as events, interests, hobbies, and more.
Pinterest is extremely successful with their users because it lets people visualize their interests and share ideas.   And, since it's basically just posting pictures to a site, it's very easy to use.
Meanwhile, companies love Pinterest even more as a marketing tool.
The website is almost an ideal place to run certain types of targeted marketing campaigns.  Plus, think of all the market research that a company can glean from a site that collects people's interests all in one spot.
With as popular as Pinterest has become, I'm sure we'll start hearing the IPO chatter in the near future.  Although, there's no obvious way to monetize the site's rapidly growing traffic.  (Like that every stopped an internet company from going public…)
But a Pinterest IPO is not what I care about…
What's important is what this site represents.  I've probably said this dozens of times, but it bears repeating.  Small companies with great ideas, just like Pinterest, are out there, waiting to be discovered.
And, many of them are already publicly traded penny stocks.
Pinterest was started by a couple guys in an apartment, and look what it's become.  Meanwhile, there are several internet and technology penny stocks trading at bargain basement prices.  And, any one of them could turn into the next big thing.
Bottom line… a little time, research, and foresight is all that stands between you and the next incredible opportunity in internet and social media penny stocks.
Yours in profit
Gordon
Category: Internet Stocks, Penny Stocks to Watch, Technology Stocks