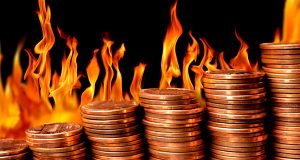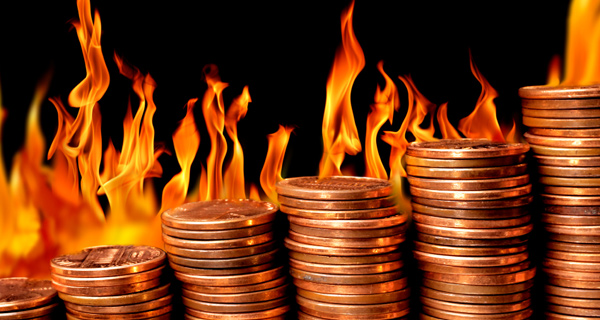 It's an exciting time for penny stocks, especially penny stocks like CytRx (CYTR), BG Medicine (BGMD), and Pacific Booker Minerals (PBM)…
CytRx (NASDAQ: CYTR)
CYTR soared last week!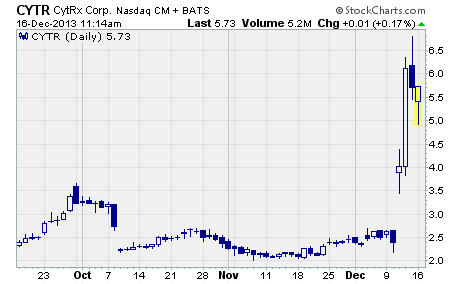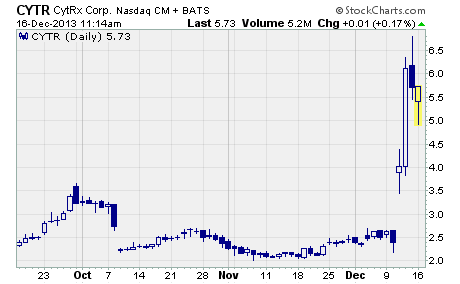 This penny biotech stock skyrocketed from $2.51 to a high of $6.79 before closing out the week at $5.72.  The huge move provided a stunning 171% gain to the high and an impressive profit of 128% for the week.
Why did the stock take off?
CytRx reported last week that its experimental treatment for soft-tissue sarcoma performed significantly better in a mid-stage trial than a widely used chemotherapeutic agent.  Results from the phase 2b study showed that the median progression free survival rate among patients treated with the company's aldoxorubicin were 80% to 100% higher than that for patients treated with doxorubicin alone.
In addition, aldoxorubicin was found to be safe and well tolerated.
The positive results are a huge win for the company and its shareholders.  In the two months prior to this announcement, CYTR had dropped by 44% from a recent 52-week high of $3.65.  But that's now a distant memory with the stock trading north of $5.70 per share.
And despite last week's big move, CYTR may have more room to run. 
The two analysts covering the stock have a median price target of $7.50 per share.  With CYTR currently trading at $5.73, the stock offers upside potential of 31% to the target.
BG Medicine (NASDAQ: BGMD)
BGMD shot higher last week after the company reported good news about its novel blood test for chronic heart failure.  We'll get to the big news in a moment. But first, a quick look at the stock chart…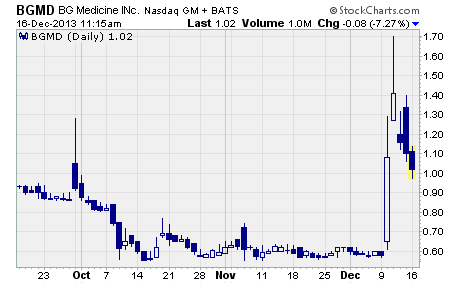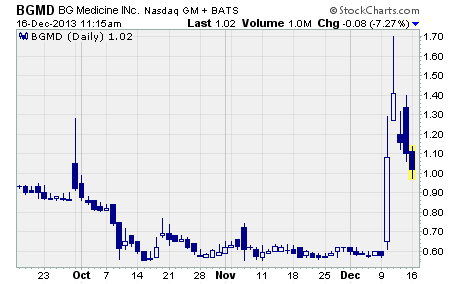 As you can see, the stock rallied from $0.59 to a high of $1.70 before finishing the week at $1.10 per share.  That incredible move generated a 188% gain to the high and an 86% rise for the week.
Getting back to last week's big news…
BG Medicine reported on Tuesday that the Centers for Medicare and Medicaid Services have boosted the Medicare national limitation amount for Galectin-3 to $30.01 for 2014.  That's a 70% increase over this year's Medicare reimbursement rate of $17.80.
The company expects to leverage the new reimbursement rate to increase sales of the Galectin-3 test going forward.
BG Medicine develops and markets cardiovascular diagnostic tests to address unmet medical needs in the US.  The company's top product is the Galectin-3 test, which is used to assess the prognosis of patients diagnosed with heart failure.  BG Medicine has license, development, and commercialization agreements with Abbott Labs, Alere, bioMerieux SA, and Siemens Healthcare Diagnostics.
Pacific Booker Minerals (NYSE: PBM)
PBM was having a rough year before last week's big move.  The stock had lost 37% of its value.  And more than $28 million in market value had disappeared into thin air.
But that all changed last week…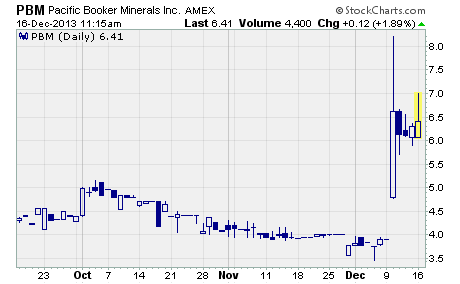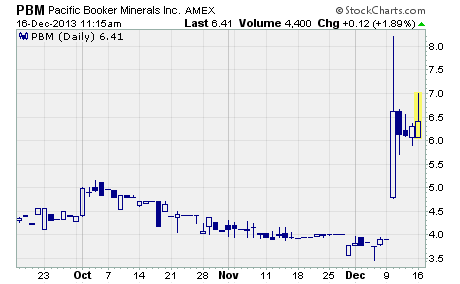 As you can see, the shares jumped from $3.90 to a high of $8.20 before closing at $6.29 on Friday.  And while the stock failed to hold onto Tuesday's stunning intra-day gain of 70%, it still finished the week with a terrific upside move of 61%.
Pacific Booker Minerals is an exploratory mining company based in Vancouver, Canada.  The company is currently focused on developing a deposit of copper, gold, and molybdenum found on its Morrison property in central British Columbia.
Here's why the stock soared…
Last Monday night, the Supreme Court of British Columbia breathed new life into Pacific Booker's proposed mining project.  The Court ordered the provincial government to reconsider the company's petition for an Environmental Assessment Certificate. 
Pacific Booker must have this critical permit before it can begin mining operations on the Morrison Property.  
The government denied the company's petition in October 2012 on grounds that the new mining project might harm the Skeena River salmon population.  And as a result, PBM lost nearly 80% of its value in one week.
A recent feasibility study suggests that the Morrison deposit has substantial quantities of copper, gold, and molybdenum. 
The study estimates recoverable reserves at 1.37 billion pounds of copper, 10 million pounds of molybdenum, and 658,090 ounces of gold.  And it assigns a net present value of nearly $496 million to the deposit.
At the moment, Pacific Booker has a market cap of just $78 million.  If the company is able to get the permit it needs, PBM should rise much further from here.  The stock's all time high is $15.35, which it set just before the government denied its first petition for the permit. 
Profitably Yours,
Robert Morris
Category: Hot Penny Stocks