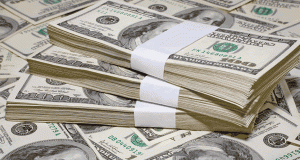 No question about it, there are plenty of reasons for investors to be worried right now. 
The partial shutdown of the federal government is now in its ninth day with no end in sight.  Democrats and Republicans continue to play a high stakes game of chicken over raising the debt ceiling.  And the Federal Reserve is poised to begin cutting back on stimulus that has fueled the market's four-plus year rally.
But despite the risks involved, the vast majority of investors remain optimistic the bull market will continue.
That investors remain positive is made quite clear by the recent performance of the major market indices.  While these key market barometers have fallen since the shutdown began, they haven't plunged like you might expect.
The Dow has declined the most, but the benchmark average is only down 5.9% from its all time high of 15,709 set on September 18th.  Meanwhile, the S&P 500, Nasdaq, and Russell 2000 are each down a little more than 4% from their recent record highs.
With that said, a growing number of investors are getting nervous about the market's ability to continue weathering the storm. 
A point made perfectly clear as the pace of the market's decline has gathered speed this week.  The S&P 500 just suffered its worst 2-day drop since June and is now down more than 2.1% for the week.  What's more, the decline in small cap stocks is starting to accelerate as the Russell 2000 has fallen more than 3% since Friday.
But here's the really interesting thing…
The cash flowing out of stocks is not going into gold, the traditional safe haven investors usually seek during times of crisis.  In fact, gold prices have continued to move lower in a downtrend that began this time last year. 
If you were thinking of trying to capitalize on the current market downturn with gold, you may have to rethink your strategy.
So just where is the money flowing out of stocks winding up?
A big portion of it is going into cash.  According to CNN Money, investors moved $56 billion into money market funds during the month of September.  And this huge cash migration pushed money market fund assets up to nearly $2.7 trillion.
At first blush, this might seem like the beginning of an ominous trend for the market.  But I think it's a sign these investors believe stocks will ultimately resume their upward climb.
By moving to cash, these skittish investors are keeping their funds readily accessible.  This tells me they're not expecting stocks to enter a bear market.  Instead, they're readying some dry powder for an opportunity to buy the dip.
Of course, only time will tell if the current market weakness is the beginning of a larger downtrend.  But if recent history is any guide, these political crises will be resolved before they get out of hand and stocks will move higher once again. 
Profitably Yours,
Robert Morris 
Category: Breaking News