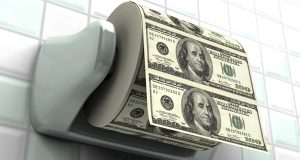 Welcome to Pump and Dump Friday, our weekly feature where we identify potentially "bogus" promotions going on in penny stocks.
Today we're exposing one of the most extensive penny stock pump and dump campaigns of the week:  Bullfrog Gold Corp. (OTCQB: BFGC).
If you don't know how these schemes work, be sure to check out our free report that exposes the whole thing.
Without further ado, here is today's disaster waiting to happen:
Bullfrog Gold Corp. (OTCQB: BFGC)
BFGC is one of the most heavily hyped penny stocks of the past week.  According to our sources, 12 promoters with 31 newsletters have been paid more than $130,000 to pump the stock so far this month.
Bullfrog Gold is a junior wannabe gold mining company.  I say "wannabe" because the company is merely in the exploration stage.  It doesn't produce any gold, silver, or other metals at this time.
In fact, the company hasn't generated a penny of revenue in its six year history.
The one thing this company is doing, however, is spending a ton of money in its quest for the mother lode.  Over the first six months of 2013, Bullfrog spent $463,000 on exploration activities.  That's on top of last year's exploration costs of $967,323.
Funny thing is…
The spending on exploration (which should be a gold explorer's main activity) is nothing compared to what this company spends on marketing. 
Last year, Bullfrog spent nearly $1.3 million on marketing activities.  And through the first six months of 2013, the company has already spent close to $1.2 million on marketing.
In other words, Bullfrog's marketing spend over the past 18 months is 79% higher than what it has spent on its search for gold.
The other thing this company does really well is lose money.
In 2011, Bullfrog racked up a net loss of over $2.2 million.  Last year, the company rewarded shareholders with a net loss of $1.3 million.  And through the first six months of 2013, Bullfrog has produced a net loss of $331,313.
But despite this sorry track record, BFGC was somehow trading for $0.32 per share at the end of last week.  At that price, the company had a market cap of over $14 million.
The really interesting thing though is what happened to the stock once the penny stock promotion campaign got underway this week. 
Take a look at the following chart…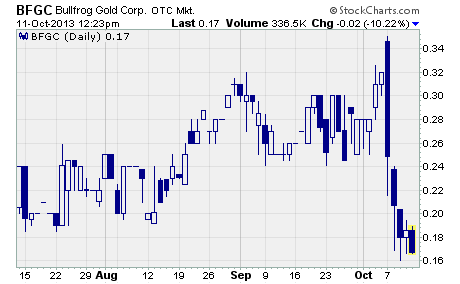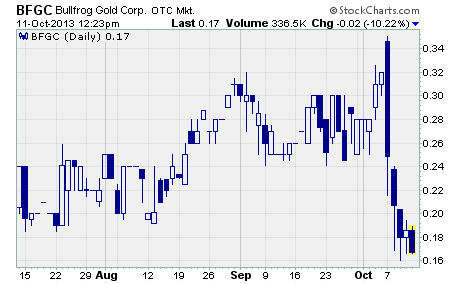 As you can see, the bottom literally dropped out of the share price.  The stock opened at $0.35 on Monday morning, but that proved to be the high not only for the day but for the entire week. 
At the moment, BFGC is changing hands at $0.17 per share, a whopping 51% below Monday's high.
No question about it, penny stock investors who bought BFGC this week on the advice of a penny stock promoter are feeling a lot of pain right now.  Don't make the same mistake with your own hard earned money.  Stay away from BFGC.
Other Penny Stocks Being Pumped This Week
DNA Precious Metals (OTCQB: DNAP) – 33 promoters with 92 newsletters have been paid over $85,000 so far this month to hype DNAP.
Global Links (OTCPINK: GLCO) – 16 promoters with 54 newsletters have been paid $40,000 in October to plug GLCO.
As you know, penny stocks are a great place to invest your money.  You just have to do your due diligence to stay away from all the schemes and scams out there these days!
Profitably Yours,
Robert Morris
Category: Pump & Dump Alerts