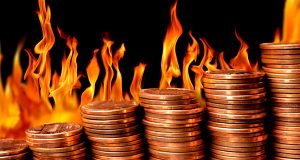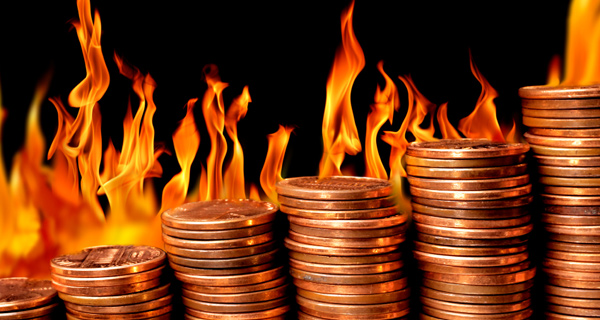 It's an exciting time for penny stocks, especially Corporate Resource Services (CRRS), Delcath Systems (DCTH), and Tianli Agritech (OINK).  Let's take a closer look at these three hot penny stocks…
Corporate Resource Services (NASDAQ: CRRS)
CRRS is on fire!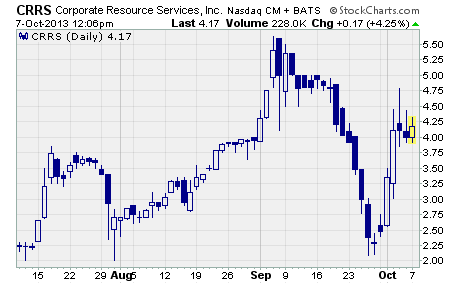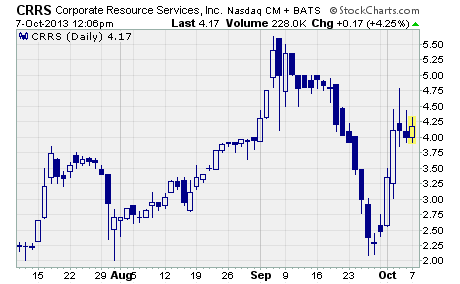 As you can see, the stock surged from $2.30 to a high of $4.78 before finishing the week at $4.00.  The strong upward move was good for a one-week gain of 74%. 
Not too shabby.
The company provides staffing, recruiting, and consulting services through 205 staffing and on-site facilities in the US.  It offers trained employees in a variety of areas, including insurance, information technology, and accounting just to name a few.
Why's the stock surging?
Last week the company announced it had just completed its most profitable month ever and will report strong quarterly results on November 13th.  In fact, management's expecting a 17% year-over-year rise in revenue and a 50% jump in EBITDA margins.
The company also announced a partnership with a large national CPA firm.
The relationship is expected to generate "several million dollars in consulting business with 35%+ gross margins."  And management claims this deal "is just the tip of the iceberg for [the company] in this high-end niche…"
Investors are clearly excited about Corporate Resource Services' future.  As such, they're wasting no time getting into the stock ahead of the upcoming earnings announcement. 
Delcath Systems (NASDAQ: DCTH)
Delcath Systems is a specialty drug and medical device company focusing on cancer treatments.  Its leading product candidate is the CHEMOSAT/Melblez Kit system.  The device administers concentrated regional chemotherapy to the liver while controlling exposure to the rest of the body.
While the system is currently available in Europe, it has not yet been approved in the US.  But it may just be a matter of time before the FDA gives the device its blessing.
You see, the regulator awarded "orphan drug" status to the device last week.  This highly coveted designation provides the company with seven years of market exclusivity and valuable tax credits.
As you might imagine, DCTH soared on the news…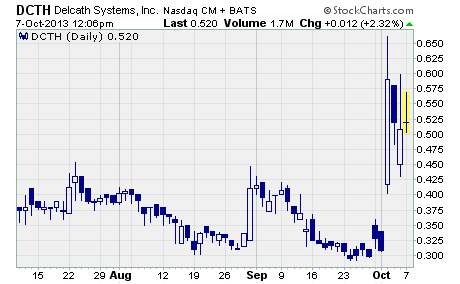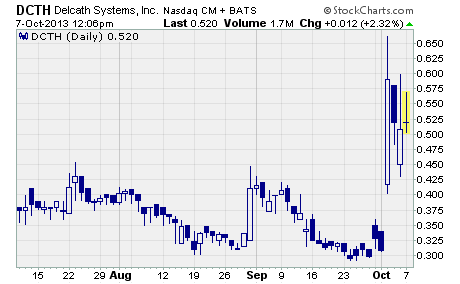 In fact, the stock more than tripled from $0.29 to a high of $0.66 on the day the news came out.  And although profit-taking pushed the shares down to a weekly close of $0.51, the stock still produced a gain of 76%.
Best of all, it may still have plenty of upside ahead…
DCTH currently carries a median price target of $1.30 for the next 12 months.  That's upside potential of 150% from here. 
Take a closer look at DCTH for your own portfolio.  If you can stomach the risk involved with medical device penny stocks, DCTH may be right for you.         
Tianli Agritech (NASDAQ: OINK)
Tinali Agritech is in the business of breeding, raising, and selling breeder and market hogs in China.  The company is developing a retail channel for its pork products, including high-value, black hog meat.  Tianli conducts genetic, breeding, and nutrition research to steadily improve its production capabilities.
OINK made a big move to the upside last week.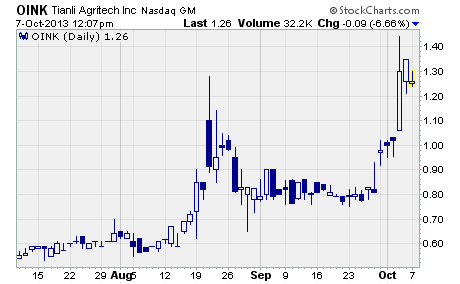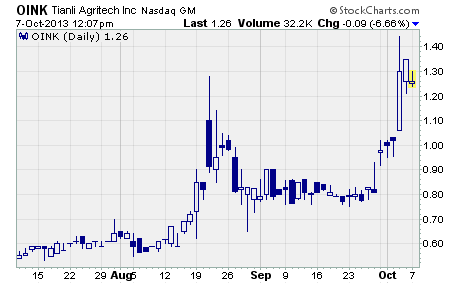 As you can see, the stock soared from $0.81 to a high of $1.44 before closing out the week at $1.35.  That's a 67% gain for the week.  And it came close to setting a new 52-week high.
Why did OINK take off?
On Monday, the company announced a $3.2 million private placement transaction with a single investor in China.  The investor has agreed to purchase 2.76 million shares of OINK at a price of $1.16 per share.
That price represented a 43% premium over the previous day's closing price.
But that's not all…
On Thursday, the company said it had signed a one-year sales contract with eight hotels and restaurants in Wuhan City.  The deal is expected to enhance the reputation of Tianli's premium black-hog meat.
CEO Hanying Li had this to say about it…
"This, combined with the recovery of pork prices in recent months, sets the stage for continuing top-line growth and Tianli's return to profitability in coming quarters…"
No question about it, the future is looking bright for OINK.  I wouldn't be surprised to see the stock continue moving higher going into quarterly earnings scheduled for November 11th.
Profitably Yours,
Robert Morris
Category: Hot Penny Stocks