Should You Be Buying Gold Today? 
Gold and $GOLD prices popped up on my radar screen this week.
Why?  Because just over a week ago, $GOLD got CRUSHED.  And it's still heading lower… and even though it's St Patrick's Day, not even the leprechauns want this pot of gold!
Just look at this chart.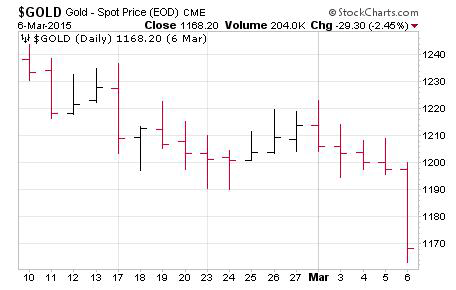 As you can see, the precious metal plummeted almost $30!  And in the last month, it's down almost $70!
That's a staggering drop… but it's only one day… why worry?  Well let me tell you… this is just the continuation of a much longer term trend.
Gold – The Longer Term Trend Anyone Can See
Just look at this next chart.
It's the 3-year chart on gold.  I also overlaid the 200-day moving average and the 50-day moving average.  Those averages show the longer term price action in a security… like gold… and make it easy to see longer term trends.
It doesn't take a rocket scientist to see that gold is in a long term downtrend.
As you can see on this chart, for the last three years, the 200-day moving average (the solid red line) for GOLD has been heading lower… and lower still.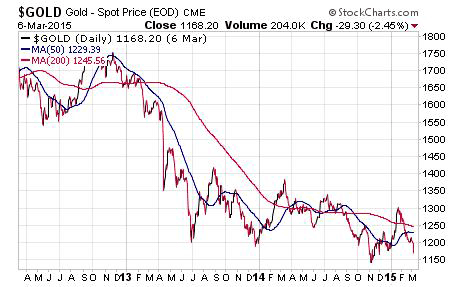 What's worse is the price of this precious commodity is trading below the moving average… meaning gold prices won't start trending higher any time soon.
Even leprechauns don't want to own gold this St. Patrick's Day!
It's ugly in gold.
What's Causing Gold Price To Plummet?
You're probably wondering what's causing this down draft in gold prices?  Why is the price of gold falling as the US economy is getting stronger and stronger?
It's a great question and the answer is pretty simple.
It's the US Dollar that's hurting gold.
To put it bluntly, gold is a global product.  Whether you're standing on the streets of London, trading in Singapore, swapping gold for supplies in Iraq, or anywhere else in the world, an ounce of gold is an ounce of gold.
But gold is priced in US Dollars (as are many other commodities).
The US Dollar is the standard method the world over for pricing gold and as the value of the US Dollar changes, it impacts gold directly.
As the US Dollar becomes worth more, commodity prices need to adjust lower… or we face a real impact from inflation.
And lately the US Dollar has done nothing but climb and climb.  Check out this chart and you can see the staggering rebound the US Dollar has seen recently.  It's climbed to levels last seen in 2003 and 2004 – over a decade ago!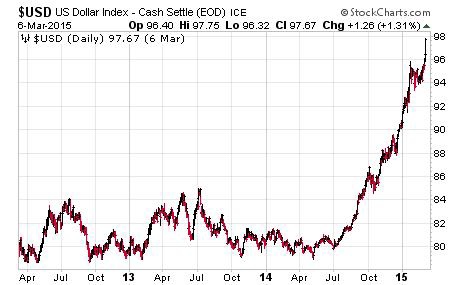 As the US economy has strengthened… investors rotated out of $GOLD in anticipation of the dollar climbing in value.  And that's what we're seeing now.
As long as the US Dollar remains strong, the price of gold will be suppressed.
But not forever.
Remember… Gold Is A Commodity
We've got to realize that ultimately the value of gold is determined by its supply and demand profile.  So as investors scoop up gold, prices will rise… and as investors sell gold… prices will fall.
One huge longer term driver is the demand for gold out of China and India.
Over the last few years, those economies have struggled.
It's put a short term damper on the demand for gold.  But keep your eye out… as India and China revive their economy, the demand for gold will return.
The other thing that will revive gold is good old fashioned inflation.  If and when we see inflation start to push costs significantly higher, investors will flock to gold – and other hard assets.
It's one of the standard ways to protect your investments from inflation and rising prices.
So what now?
Is Gold A Buy Or A Sell RIGHT NOW?
Right now given the recent economic data, the US Dollar strength, and the look of the gold chart… I wouldn't touch gold for a trade.
As a matter of fact, I'd be selling any gold I owned right now.
You don't know how much longer this downtrend will last… and why hold onto gold if the price is falling.  We could see prices slide for weeks, months, or years more!
Now with that said, there are ways to profit from gold using the best penny stocks… and I'll touch on that in future articles!
Good trading…
Brian Kent
Note: Brian Kent has been trading the markets for more than two decades and now writes and edits for PennyStockResearch.com.  You can sign up for the penny stock research newsletter a trusted source for the truth about penny stocks! Sign up today and get a free research report – http://pennystockresearch.com/free-reports/.
Link the last phrase to:
Category: BEST Penny Stocks