Can You Make Money Buying A Gold Stock?
We all know gold has hit a rough patch…
Since late 2011, gold prices have been on a steady slide lower… Gold prices peaked over $1900 an ounce, and now trades under $1200 an ounce.
It's a loss of more than $700 an ounce, or 36.8%.
For anyone with a significant amount of money invested in gold, it's a painful experience.
To see why gold prices are sliding… check out my last article on Gold…
Nobody likes to see their investments fall in value.  But if you're holding gold… that's what's going on.  Wouldn't it be nice to make money with gold instead of lose it?
There is a way to make money in gold.
But you've got to do your research and really know what you're doing.
So how do you do it?
How do you make money in gold… with the price plummeting more than 36.8% in the last few years?
One Gold Stock With FAT Returns
You find companies with operations that are growing rapidly…
For all the gold penny stocks showing positive moves in the last six months, one really jumps out at me.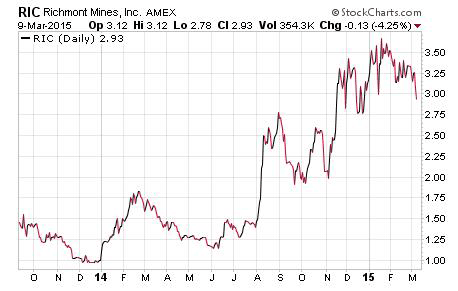 Richmont Mines $RIC
As you can see, $RIC has tripled in value in just over 12 months… and it looks like it may keep running!  Remember, over the same time period, $GOLD prices have trended lower!
Why the success of this stock?
First – it's not just a successful Gold Stock… it's a successful Gold Penny Stock.  You're not going to see a stock with a $50 or $60 stock price double or triple any time soon… but with penny stocks, it happens all the time.
Second – Management is executing…
Despite falling gold prices, the company is announcing successful quarter after successful quarter.  Just look at their last press release:
Richmont Mines 2014 Revenues Up 47% and Operating Cash Flow Up 689% Over 2013
Now if that's not a great report, I don't know what is.
I took a look at the company investor presentations and there are a few things that really jump out at me…
Management is strong and they've done this before.  Their presentation starts off with their track record… they've been mining gold since 1991.
They have a strong balance sheet – over $38 million in cash… with little debt.  And best of all, they are producing cash from operations!
Finally, they are very forward on their cost of production.  For 2014, it cost them $866 (USD) to produce gold.  They plaster this number everywhere.  And to be honest, I've seen some companies try to hide their cost of production.
You see, it makes it really easy to see how profitable the company is…
Gold prices are around $1160 as I write this… yet their cost is $866.  It means they make money on every ounce of gold pulled from the ground.  It's a good business and as long as they keep costs stable – profits shouldn't be a problem.
What a great gold stock.
Why This Gold Stock Is Up
It doesn't take a rocket scientist to see the company is performing… and best of all growing.  And it looks like they have great opportunities going forward.
It's the future view of the business investors are really interested in…
Remember, in 2014, they produced and sold "94,503 ounces- a significant 49% increase over 2013 levels".
I don't know about you but that sounds strong!
While their forward projections only call for "78,000 to 88,000 gold ounces sold", I believe many investors see this as management's attempt to manage expectations.  Could they be sandbagging a bit? – You BET!
As for future expansion… recent drilling results show that their current mines have the ability to be expanded significantly…
Better still, the company announced a bought deal financing… this is where the broker agrees to buy the entire deal.  It's not something you do without significant confidence in the future results of the company.  Best of all, it gave management over $30 million to use for mine expansion and capital expenses.
How You Can Grab Fat Gains For A Single Gold Stock
Like I said, profits from a single gold stock are very possible… even with gold prices falling.
You've simply got to find a solid company in the industry who is performing –and performing well. They've got to show not only current success, but also give good guidance on future expansion.
It will take a while to dig up a good gold stock like that… but you've already got one on your radar!
Good trading…
Brian Kent
Note:  Brian Kent has been trading the markets for more than 2 decades and now writes and edits for PennyStockResearch.com.  You can sign up for the penny stock research newsletter a trusted source for the truth about penny stocks! Sign up today and get a free research report – http://pennystockresearch.com/free-reports/
Category: Penny Stocks to Buy