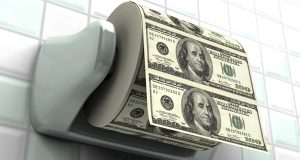 Welcome to Pump and Dump Friday, our weekly feature where we identify potentially "bogus" promotions going on in penny stocks.
Today we're exposing one of the most extensive penny stock pump and dump campaigns of the week:  Resource Ventures Inc. (PINK: REVI).
If you don't know how these schemes work, be sure to check out our free report that exposes the whole thing.
Without further ado, here is today's disaster waiting to happen:
Resource Ventures Inc. (PINK: REVI)
Our research indicates that REVI is one of the most hyped penny stocks of the past week.  At least 28 different promoters have pumped the shares through an astonishing 212 newsletters.  And many of them have received or expect to be paid a small fortune for their services.
Here's a short list of the top promoters and their actual or expected paydays…
Research Driven Investor… raked in a jaw-dropping $140,000
Too Nice Stocks… pocketed a cool $25,000
Stock Goodies… received $10,000
Of course, these are just the promoters spearheading the campaign.  There are many more involved who have received anywhere from $1,000 to $7,500 for their efforts.
So, what's the skinny on Resource Ventures?
The company was incorporated in Nevada in 2001, but is headquartered in Silverado, California.  Like many pump and dump penny stocks, Resource Ventures has gone through several name changes. 
It started out as Riverside R.V. Rentals in 2001… changed to Resource Printing and Graphics, Inc. in 2006… became Elleipsis Global Travel Solutions, Inc. in 2008… and finally settled on its current moniker in 2010.
According to the company's 2012 annual report, it "acts as a broker to produce a wide variety of printed products" through its subsidiary Resources Printing & Graphics.  A quick perusal of the subsidiary's website reveals it produces flyers, color brochures, catalogs, and directories.
Just how successful is Resource Ventures?
It's not exactly a world beater.  The company had net income of just $25,186 last year on revenue of approximately $1.5 million.
However, the balance sheet is even more telling.
At the end of 2012, the company had no cash and current liabilities of $246,499.
But perhaps the scariest thing about Resource Ventures is what I found at the very end of the annual report.  Note L to the company's financial statements says the company overstated income and understated various expenses in its 2011 financial statements.
What's more, the correction of this error had a negative impact.  Among other things, 2011 net income and retained earnings decreased by $157,116 and sales decreased by $72,502.
Of course, accounting errors are always cause for concern.
In fact, it looks like the accounting issue has plagued the stock.  It traded only sporadically throughout 2012.
Perhaps that's why Resource Ventures has decided to pursue a new business in 2013.  And when I say new… I mean entirely different. 
According to a March 18th press release, REVI has acquired Global Energy Management Ltd. (GEM) – a company formed just this year – to engage in oil and gas exploration as well as electrical power generation and distribution.
That's not a misprint. 
This printing and graphics company would have you believe it has what it takes to compete in the highly competitive global energy market.  I guess they're going to capitalize on their experience making flyers to make a fortune in oil and solar power.
Of course, the initial press release was followed by several more describing all the wonderful business opportunities GEM is pursuing.  But if you look closely, there really isn't much to get excited about. 
They haven't struck oil or won lucrative solar power contracts.  The company has merely bid on an oil concession in North Africa and signed letters of intent to form joint ventures with other unknown companies.
The press release barrage was just one part of the company's strategy to boost its share price.  The other was the email promotion campaign which also kicked off on April 18th. 
And it snagged a number of unsuspecting investors. 
REVI jumped from just two cents on March 11th to a high of $0.17 on March 25th.  That gave insiders a whopping 750% gain in just two weeks' time!
But then the dumping phase began. 
On March 26th, the stock dropped 35% to close at 11 cents per share.  And by the end of the following week, it had plunged to $0.035.  Today, REVI is right back where it started at $0.02 per share.
That's a whopping 88% decline in one month!
No question about it, the recent action in REVI looks like a classic pump and dump.  My advice is to steer clear of this penny stock and look for better opportunities.
Other Penny Stocks  Being Pumped This Week
MineralRite Corporation (OTCQB: RITE) – 27 promoters with 209 newsletters have been paid up to $47,500 to hype RITE.
UOMO Media (PINK: UOMO) – 21 promoters with 131 newsletters have been paid up to $27,500 to plug UOMO.
As you know, penny stocks are a great place to invest your money.  You just have to do your due diligence to stay away from all the schemes and scams out there these days!
Profitably Yours,
Robert Morris
Category: Pump & Dump Alerts