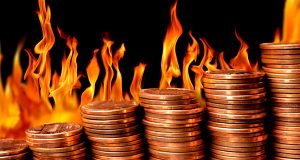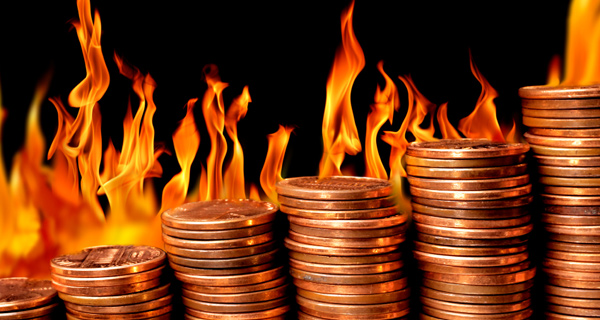 It's an exciting time for penny stocks, especially Global Geophysical Services (GGS), Socket Mobile (SCKT), and Sucampo Pharmaceuticals (SCMP).  Let's take a closer look at these three hot penny stocks…
Global Geophysical Services (NYSE: GGS)
GGS soared 85% last week!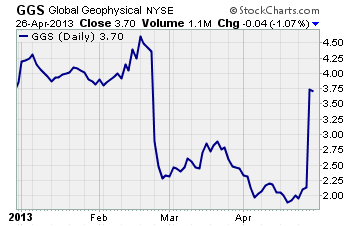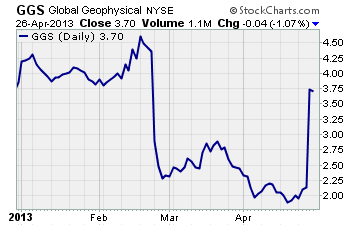 Global Geophysical Services provides seismic data acquisition, micro-seismic monitoring, data processing, and interpretation services.  Oil and gas exploration firms use these services to obtain high resolution images of the Earth's subsurface to aid their search for oil and gas reservoirs.       
Why did the stock jump?
First quarter revenues of $83 million and earnings of $0.05 per share handily beat analyst estimates.  Wall Street was expecting a loss of $0.09 per share on revenues of just $63 million.
But that's not all… GGS also increased its order backlog by 78% to $180 million.
And, the company's making progress on the priorities management laid out previously.  In addition to increasing the order backlog, GGS is boosting proprietary services' revenue, expanding international operations, generating more free cash flow, and reducing debt.
It certainly looks like GGS is turning the corner.
Socket Mobile (OTCQB: SCKT)
Socket Mobile makes mobile devices and productivity tools for the retail point-of-service, field service, and healthcare markets.  Their two primary product families are mobile handheld computers and data collection devices.
Over the past week, SCKT has surged 46%!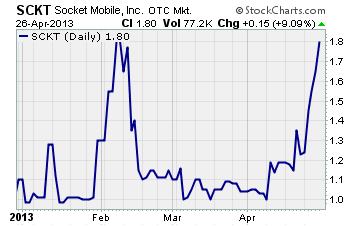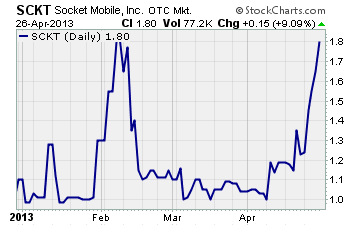 Here's why…
Demand for the company's cordless barcode scanners is taking off in a big way.  In fact, sales increased 60% quarter-over-quarter in the first three months of this year.  What's more, developer registrations for the company's barcode scanning software are growing as well. 
CEO Kevin Mills explained that businesses "are increasing their use of tablets and smartphones running Apple, Android, Blackberry, and Windows Mobile operating systems to deploy mobile solutions."  Of course, Socket's cordless barcode scanners "are designed to work with business solutions on all of these devices."
More importantly, the company reported a profit of $0.02 per share for the quarter compared to losses of $0.14 and $0.18 in the preceding and year-ago quarters respectively.
Mr. Mills believes these trends are "positive indicators for the future."
Sucampo Pharmaceuticals (NASDAQ: SCMP)
Sucampo is a biotech currently focused on developing and/or commercializing drugs to treat gastro-intestinal, ophthalmic, neurologic, and oncology-based inflammatory disorders.  Their drugs are developed based on prostones and other novel technologies. 
The company has two drugs on the market.
Amitiza is approved for the treatment of chronic idiopathic constipation in adults, chronic constipation, and irritable bowel syndrome with constipation in adult women.  And Rescula was recently approved by the FDA as a primary treatment for glaucoma. 
Here's the thing… shares of this exciting company jumped 40% last week!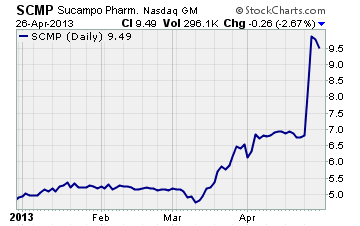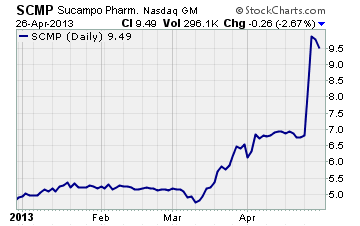 What's going on?
The FDA approved Amitiza for the treatment of opioid-induced constipation in patients with chronic non-cancer pain.  The decision was important as it expanded the drug's use in a major way.
According to a Cantor Fitzgerald analyst, this one indication should generate peak sales of $200 million.  That would be in addition to sales for previously approved indications which generated $271 million last year.
No question about it, this is a huge win for Sucampo.  And the stock's soaring as a result.
Profitably Yours,
Robert Morris
Category: Hot Penny Stocks